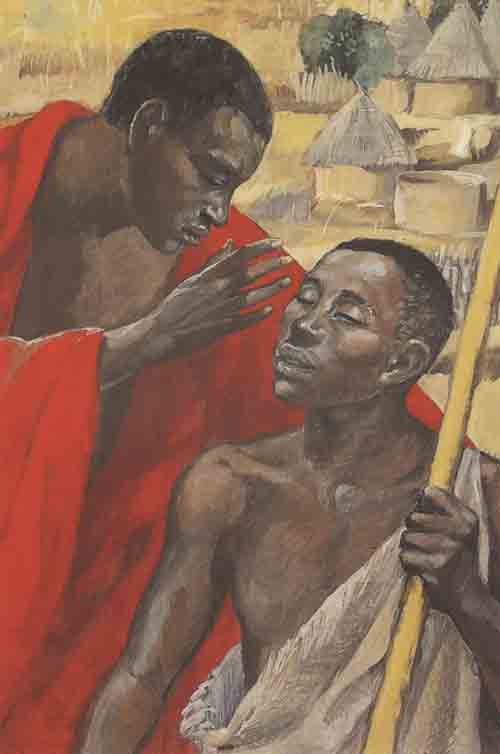 scripture readings
textweek resources
This is also Mothering Sunday
When Lent began on the first Monday in Lent (day after First Sunday in Lent), this Sunday was half-way through Lent: Mid-Lent Sunday (in French mi-carême). This allowed for some feasting. Lightening the shade of the purple dye may have resulted in rose-coloured vestments. Some visited the mother church of the diocese on this day, and gave a donation. Servants and apprentices often visited their parents with "mothering cake". Both are part of Mothering Sunday. The introit of Mass "Laetare Jerusalem" ("O be joyful, Jerusalem") gives the Sunday the name Laetare Sunday. It is also called Rose Sunday because of the golden rose sent by the popes to Roman Catholic sovereigns used to be blessed at this time. Flowers might be used at services.
Preparing for Holy Week
• Palm Sunday
• Maundy Thursday
• Good Friday
• Easter Vigil
Collect from BCP (USA)
Gracious Father,
whose blessed Son Jesus Christ
came down from heaven to be the true bread which gives life to the world:
Evermore give us this bread, that he may live in us,
and we in him;
who lives and reigns with you and the Holy Spirit,
one God, now and for ever. Amen.
A revision of a collect written by FB McNutt (1952)
Collect from Common Worship (CofE)
Merciful Lord,
absolve your people from their offences,
that through your bountiful goodness
we may all be delivered from the chains of those sins
which by our frailty we have committed;
grant this, heavenly Father,
for Jesus Christ's sake, our blessed Lord and Saviour,
who is alive and reigns with you,
in the unity of the Holy Spirit,
one God, now and for ever.

cf. BCP 1549 Trinity 24:
LORD we beseche thee, assoyle [absolve] thy people from their offences, that through thy bountiful goodnes we maye bee delyvered from the handes of all those synnes, whiche by our frayltye we have committed : Graunt this, …
Exegesis of this Sunday's readings
from WaiapuAcademy.org
Introduction to the readings
The context, the frame of the reading about to be heard. This could be used as an introduction, printed on a pew sheet (acknowledged, of course), or adapted in other ways.
1 Samuel 16:1-13
The two scrolls of Samuel cover the history of the Holy Land from about 1080 – 970 BC. From Samuel's birth to David's death. Today's text is the third and last part of the first scroll. It moves away from Ramah as Saul continues to loose appropriate authority. The context of the text is the Middle Eastern focus on externals in their relationships with one another.
Ephesians 5:8-14
Material found in the Dead Sea scrolls states: "love all the sons of light, each one according to his lot in God's plan, and detest all the sons of darkness, each one in accordance with his blame in God's vindication" (1QS 1:9-11). "God knows the result of his deeds for all times everlasting and has given them as a legacy to the sons of men so that they know good [and evil], so that they decide the lot of every living being in compliance with the spirit there is in him [at the time of] the visitation (1QS 4:25-26). This theme is picked up by today's author.
John 9:1-41
In this story physical and metaphorical blindness (ignorance) are intertwined. Building (making clay) and kneading are both forbidden on the Shabbat. The issue of the source of human misfortune – why do bad things happen to good people – has already had lengthy examination in the book of Job.
This Gospel reading has been present for this Sunday from at least the Milanese rite (evident in the Sacramentary of Bergamo and the Ambrosian Missal. There is an association with the Scrutiny today for RCIA and the catechumenate.
Please add your ideas, resources, prayers, hymn suggestions, comments…
Similar Posts: