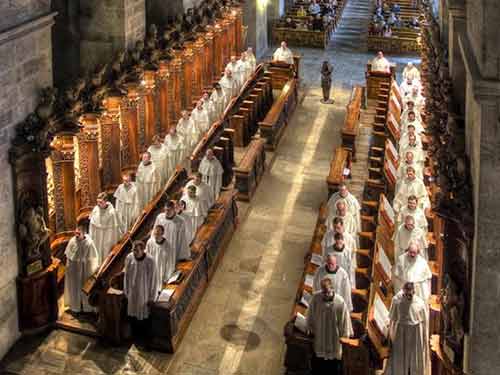 In a recent comment in response to the Old Testament not being used during the Easter Season, there was a pointing to the plenty of psalms in the lectionary. This made me wonder – how do different individuals and communities understand the psalms?
Do you think of the psalms as readings?
Certainly, the psalms (for Christians) present so much of Christ's life (and our own).
In the lectionary, the layout makes no distinction between the "readings" and the "psalm" – so people can be forgiven for understanding the psalm's place, in the lectionary, as simply another reading:
Acts 16:16-34
Ps 97
Rev 22:12-14, 16-17, 20-21
John 17:20-26
In practice, it would not surprise me if, in some communities, the psalm is read as one of the readings, concluded with
Hear what the Spirit is saying to the Church.
Thanks be to God.
I am used to a Eucharist always having a psalm. And I cannot recall, in twenty-five years of presiding at the Eucharist, ever presiding without having a psalm. But (unless the Eucharist is combined with an office, a practice I have seen particularly in monasteries) I also wouldn't normally be used to having more than one psalm between the collect and the homily. So normally I am used to: reading; psalm; (reading); Alleluia verse and/or gradual hymn; Gospel. The psalm in this understanding is a sung prayer, an inspired hymn. I am used to a psalm between the first and second reading (and that second may be the Gospel reading) rather than the multiplication of psalms at this point certainly as allowed by the NZ Prayer Book rubric, "A psalm… may follow each reading." (are there people, following this, who follow the Gospel reading with a psalm?)
"What is the book in the Bible with the highest number of chapters?" That question in a quiz game would not have me immediately have the Book of Psalms spring to mind. I don't tend to think of the psalms as being 150 chapters in a book. I think of them as 150 inspired songs of prayer and praise.
In about five decades of praying the psalms, mostly daily, mostly many psalms a day, I do not tend to think of the psalms as readings, but as prayers, inspired prayers that have become my prayers, prayers I continue to grow into and with.
So how do you understand the psalms?
And how does your community understand the psalms?
And how do you, and your community, use the psalms?
If you appreciated this post, do remember to like the liturgy facebook page, use the RSS feed, and sign up for a not-very-often email, …
Similar Posts: