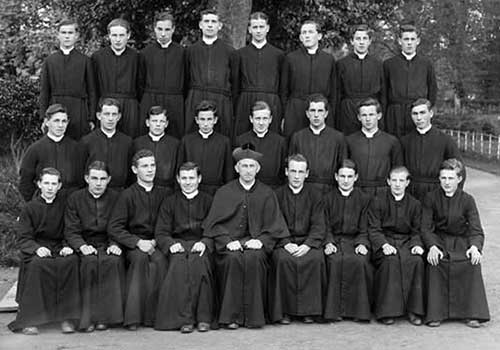 It happens a lot. I use a tree to illustrate the wood (forest), and people focus on the particular tree. Sometimes the particular tree is actually worth focusing on. This tree, I think, is worth its own look.
The question that I am now interested in is: where and in what contexts are clergy wearing a cassock or a soutane?
There's been a post doing the facebook rounds: A cassock: Work clothes, not a dress uniform
The first day he put on a cassock, a seminarian got a letter from a friend, a few years his senior. This is what he learned about his cassock:

A cassock. Today in your eyes it is more beautiful than a bride's dress. You are truly and rightfully happy wearing it; after all, you have been waiting for it since the time you entered the seminary.

I can only hope that you will be equally happy when it has come to be what its color implies, i.e. a deadly shroud and a dying uniform. Today it is a bride's dress you enthuse over, along with your family and friends. Be as enthusiastic about it when it starts to be your solitary confinement, cage and furnace where God will melt and purify you, an uncomfortable hermitage.

This bride's dress, when necessary, will be your armor, provided you care to remember and use it this way. Wearing a cassock can and should be a form of prayer in itself, but it does not become a prayer just by putting it on.

Pockets. The deep ones are meant to store all the things you will share with others. Always have something to give away to the needy and children. Remember that they will appreciate a little money, your smile, and a word of solace more than your impeccable hymn singing. This is because people need first and foremost to hear that they are loved, and even more so to feel that this is true.

An inside breast pocket. It is not meant for holding an expensive pen. Carry in it letters you do not know how to answer, notes with the names of those you have promised to pray for, other people's bills you have decided to pay, addresses you know should be visited, as their occupants will never come to you on their own, pictures of dogs, cats, grandchildren, and people in love as well as tree leaves and drawings nursery students have offered you. Keep this pocket filled at all times…. [read on about this]
What interests me, in conversations around this, is – where (and when) are clergy wearing a cassock (or soutane) in public? (ie. other than in church environment). Do let us know in the comments.
Some of the discussion around this (that led to this post) indicated that wearing a cassock is common (at least in some places) in Tikanga Maori. Where else does it occur?
If you appreciated this post, do remember to like the liturgy facebook page, use the RSS feed, and sign up for a not-very-often email, …
Photo credit: National Library of Ireland on The Commons via Foter.com / No known copyright restrictions
Similar Posts: