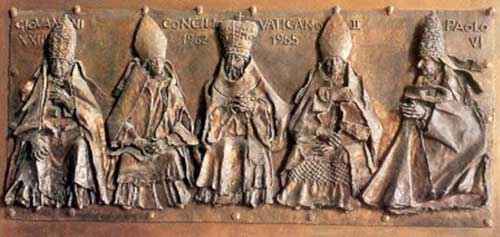 This year, on 4 December, it is the 50th anniversary of the Constitution on the Sacred Liturgy (Sacrosanctum Concilium), the first document promulgated by Vatican II. I was invited to write a reflection from an Anglican perspective for Liturgy, the Roman Catholic Auckland Diocesan Liturgy Centre publication.
I am grateful that they are happy for me to post my article on my site, and encourage you to consider subscribing to the magazine.
This is the second part of my article. Click here for part 1 of this article.
*****
Alongside these common texts [Lord have mercy, Glory to God in the highest, Nicene Creed, Apostles Creed, Sanctus and Benedictus, Agnus Dei, Glory be to the Father, Benedictus, Magnificat, Te Deum, the Lord's Prayer], of all the magnificent results of post-Vatican II ecumenical liturgical achievements it would be hard to find something of greater impact than the shared three-year lectionary.
Sacrosanctum Concilium had declared, "The Church, therefore, earnestly desires that Christ's faithful… should be instructed by God's word…The treasures of the bible are to be opened up more lavishly, so that richer fare may be provided for the faithful at the table of God's word. In this way a more representative portion of the holy scriptures will be read to the people in the course of a prescribed number of years. (48-51)"
In 1969, this resulted in the Roman Catholic Church issuing a new, three-year Sunday lectionary, Ordo Lectionum Missae. Since then there have been some revisions of this lectionary. The revision used by Anglicans in New Zealand is called the Revised Common Lectionary. Yes, it is true, that not every reading for every Sunday and feast day is identical but, on the whole, Roman Catholics, Anglicans, and others, Sunday by Sunday, major feast day by major feast day, are reading the same readings. This is stunning.
We now have lectionary resources in common: commentaries, sermon ideas, examples for Prayers of the Faithful, and lectionary-based material for children and young people. Clergy from different denominations meet together week by week to discuss insights as they prepare for Sunday's preaching. Ecumenical prayer and study groups focus on the same lectionary readings. Websites provide thoughts, and places for conversation, ecumenically and internationally.
I have mentioned some similarities as these two faith communities embarked on liturgical renewal and reform. There were also differences.
One difference is the way that renewal and reform was implemented. Roman Catholicism, with its more top-down decision-making process meant, for example, that throughout the country there was quite a consistency in building layout, as well as in presiding and service styles. High altars were removed, and interiors of church buildings were sometimes radically overhauled.
Anglicans ended up with far more variation. In church layout, Anglicans made more compromises, often retaining the high altar along with an added "nave altar". In one Anglican cathedral there were three altars in a row, two of them movable.
The same compromising happened in rites. Some Anglican provinces included retaining the seventeenth-century language as an option in their revised Prayer Book (as a sort of Anglican "Extraordinary Form"). New Zealand opted to do this differently. The seventeenth century Prayer Book was retained for use alongside the twentieth century revision. An 8 o'clock Sunday communion service, a weekday one with older people, or a choral Evensong may still often use the BCP.
To be concluded…
Similar Posts: