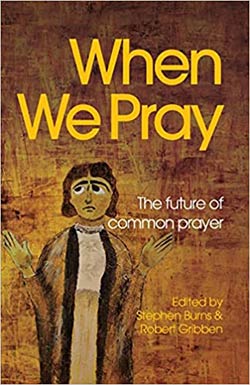 The book originated collecting presentations for a symposium on The future of the prayer book tradition hosted by Stephen Burns and Robert Gribben at Trinitiy College Theological School in Parkville, Melbourne in 2018. Then others (myself included) had essays added to those contributions.
You can read my essay by clicking this link:
The LORD's song in a foreign land
Common Prayer is like learning a new language
Stephen Burns is an Anglican priest. He is Professor of Liturgical and Practical Theology at Pilgrim Theological College, Melbourne. Robert Gribben is a Minister of the Word in the Uniting Church in Australia. He is Professor Emeritus of the Uniting Church's theological faculty in Melbourne and an honorary Research Fellow of the University of Divinity.
The book is divided into Part A The Prayer Book Tradition and Part B Liturgical Themes and Foci. The book looks at the historical tradition of common prayer, its current reality, and possible future expressions of it. You can see more of the contents via the link, I hope you enjoy and appreciate my essay, and I encourage you to purchase and reflect on the book.
.
Similar Posts: