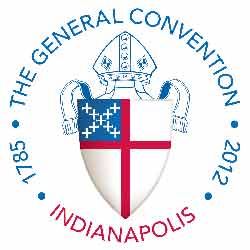 The 77th General Convention of the Episcopal Church (TEC) runs from July 5–12, 2012, at Indiana Convention Center, Indianapolis, Indiana. This is TEC's ultimate decision-making body and it is the second largest democratic decision-making body in the world (the first being the parliament of India).
Bishops and Deputies (lay and clergy) from TEC's 16 member nations have gathered; they meet every three years. There is also an exhibit hall.
Regulars here will be interested in the discussions and decisions around blessing committed same-sex couples; communion of the unbaptised; the sanctoral calendar; the Anglican Covenant.
You can follow everything on the official website. On twitter the hashtag is #GC77
There is a facebook group praying for General Convention.
You can light a candle and pray here.
My e-friend Scott Gunn has been blogging in preparation. You can check out his preparatory blogs with a liturgical flavour here, here, here, here, and here. If you have a blog post, or know of any good ones – please put them in the comments.
The General Synod Te Hinota Whanui of the Anglican Church in Aotearoa, New Zealand and Polynesia is meeting at a similar time, with some similar areas to discuss and decide about to those I listed above.
Similar Posts: