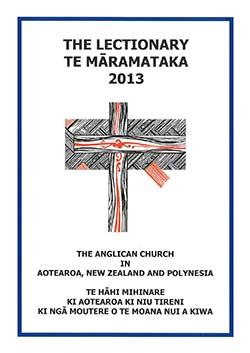 It's that time of year again; when we receive The Lectionary Te Māramataka 2013 for the Anglican Church of Or.
This year, the four pages of "How to use the Lectionary" are followed by two new pages "Understanding the Lectionary". These six pages notwithstanding, someone like me still finds this publication an annual enigma.
I warned last year that especially in this digital age, an error from one year, if not corrected, can so easily be there again next year. As I said, I emailed those responsible for the Lectionary letting them know of errors. Clearly that was a waste of good electrons, because, once again (as it did for 2012), on page 2 it reads
The RCL has been adapted for use in a revision of ANZPB/HKMOA, replacing the exiting printed pages 549 to 723.
There may have been an excuse last year (as I never received a reply, I am just generously surmising this), that the alteration of A New Zealand Prayer Book He Karakia Mihinare o Aotearoa (ANZPB/HKMOA) was mistakenly anticipated. But this year General Synod Te Hinota Whanui (GSTHW) explicitly voted against the revision that this states has now happened! So much for our Lectionary expressing decisions of our GSTHW.
On January 1 we are told that THE NAMING OF JESUS "is a principal feast and should not be displaced by any other celebration". In that very same entry New Year's Day and its propers are provided as an alternative! The same happens for February 2 and 3…
From January 13 to February 3, Sundays are titled the 1st to 4th Sunday after Epiphany. The next Sunday, February 10, suddenly gets a new type of title completely: "5th Sunday in Ordinary Time"!
There's a (good) note (thanks!) with Trinity Sunday that reads, "Note that White is the colour for the Sunday only, and not for the following week" (well excepting Wednesday, Thursday, and Friday of course!) Why is there no similar note with the Day of Pentecost, Christ the King, etc.?
Sunday November 10 the Lectionary for the Anglican Church of Or assigns Green, Red, White, or Violet!
The 33rd Sunday in Ordinary Time this year, 2012 (18 November) was White (with Red for those who didn't like White). Next year, 2013 (17 November) it is Green (as, obviously, it should be), with Red still for those who really like dressing up in red!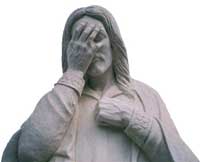 This year, 2012, Christ the King (25 November, 34th Sunday in Ordinary Time) was Green (and obviously Red again for those ruberphiles addicted to red). This coming year, 24 November 2013, Christ the King will be White (quite rightly!), or Red for the ruberphiles. But there is also a new colour on 24 November 2013: "A"! I'm struggling to work out what the liturgical colour "A" is in the Anglican Church of Or. Is it Amber, Amethyst, Aqua, or Arsenic, or, for our ruberphiles, Amaranth or Alizarin? [Or does "A" just stand for Any Colour?]
Seriously! I would not be able to make this stuff up (ambiguity intended!)!
It is worthy, as I indicate in the paragraph above, of the extremely-hard-to-get Jesus Facepalm award!
These are just a few things I immediately spotted as I opened the Lectionary. No doubt there will be more details revealed for our amusement (or irritation – depending on one's mood and confidence in the Anglican Church of Or) as the year progresses. I have asked that a digital version of the Lectionary be put online. As soon as it is available I will link to it from here.
[Update 4 December 2011: The Lectionary 2013 PDF has just been made available (262KB)]
Similar Posts: