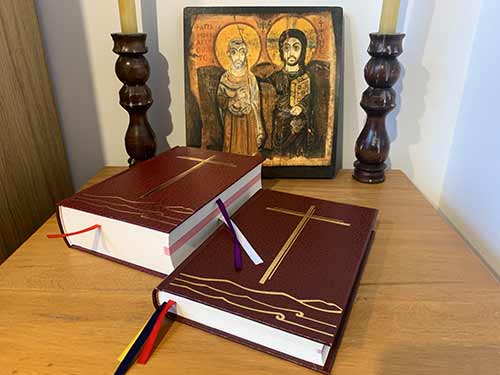 The new 2020 A New Zealand Prayer Book He Karakia Mihinare o Aotearoa is, in many ways, maybe the book many might have hoped for in 1989. There is much more in the various languages of the Anglican Church in Aotearoa, New Zealand and Polynesia. Eucharistic rites are in English, Te Reo Māori, Fijian,Tongan, Samoan, and Hindi. The homegrown two year cycle of Sunday thematic readings is gone. The Revised Common Lectionary is provided with a single collect for each celebration. And each of those Sunday provisions is in Te Reo Māori and in English. The Te Reo text has been macronised throughout.
If you have the 2020 book, do add your thoughts and any first impressions in the comments section.
This 2020 book is large (140mm x 200mm x 53mm), weighs 1 Kg and has four ribbons. [The 2005 edition weighs 600gm].
The 2005 book has 984 pages, three ribbons, and these pages total a thickness of 24mm – so that was a paper thickness of 49 microns (0.049 mm). The 2020 book is a little more difficult to calculate (NB even the 2005 book repeats pages 476-490). In inserting new sections and abandoning others, the 2020 book has tried to retain well-known pagination. Few would know the term "Eucharistic Liturgy Thanksgiving of the People of God" (to distinguish it from other Eucharistic Liturgies in the book). Many/most would simply refer to it as "Page four oh four". Page four oh four in the 2020 book is the same as Page four oh four in the 2005 book.
The 2020 book has xviii pages at the start. Then Arabic-numeral page numbers go to page 441, which is followed by pages F404- F427 (F for Fijian); followed by T404-T427 (Tongan); then S404-S429 (Samoan); and H404-H427 (Hindi). Pages 442-455 are dropped. We next start at pages 456-493, followed by S476-S491. Pages 494-723 are followed by page 723a and then 723a; 723b and then 723b all the way to z and z; and then 723aa followed by 723aa; the same for 723ab, and 723ac. Then come single pages 723ad, 723ae, to 723ao. 727-949 are back to normal Arabic counting. And then come pages A1-A2; B1-B2; C1-C3. Did I get it correct – that's 1159 pages (plus or minus a page or two)? The total thickness of these 2020-book pages (48mm) comes to twice the thickness of the 2005 book (24mm) – so this 2020 book uses a paper thickness of 83 microns (0.083 mm). Had they used the same thickness of paper as the 2005 book, the 2020 book would have been 20mm thinner.
Unlike some other bound books, there is no daily lectionary in this book. Nor is the Bible bound with it. So, for nearly every service (certainly leading it), you will need this book, a Bible, and a lectionary booklet.
This series is continued:
2) how this book bears the same title as the 1989 book but has quite a different status,
3) looking in detail at the book, starting with the first few pages.
Meanwhile, I remind you that I have been reflecting on some of the Eucharistic Prayers bound into the 2020 book: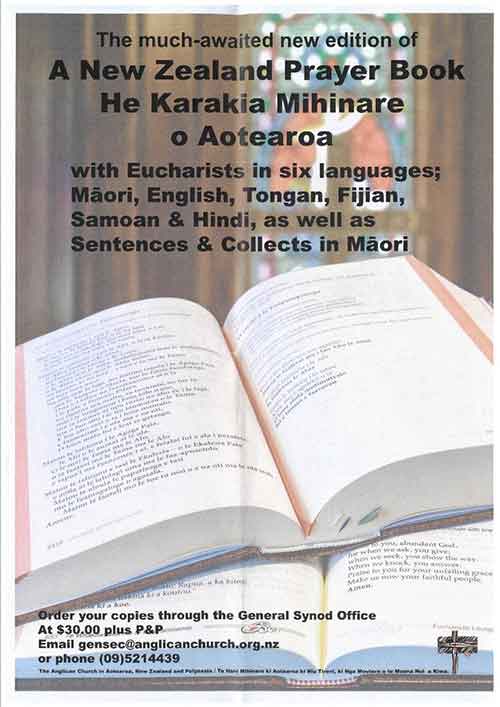 Similar Posts: