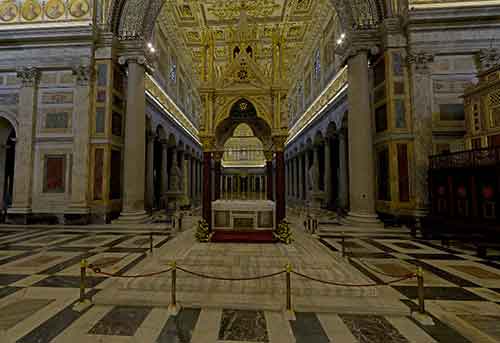 Rome's Lateran cathedral (the Papal Archbasilica of St John Lateran) does not have a sanctuary in the current sense of the word, nor does St Paul Outside the Walls. These basilicas follow an earlier Roman practice, where the altar is free-standing on its own platform of several steps. The steps are narrowly limited by the four pillars of the baldachin or ciborium arching over the altar. The only place for ministers to stand on this platform is at the back of the altar, facing the people. (Dom. Daniel McCarthie OSB in The Tablet 27 July 2013)
I have been to both of these church buildings. St Peter's Basilica follows a similar pattern. In this pattern you can approach close to the altar. The steps are closely circumscribed. [In St Peter's, people will be used to a platform put over the confessio, the opening in front of the altar going down to St Peter's tomb, so that a papal chair, for example, can be placed in front of the altar).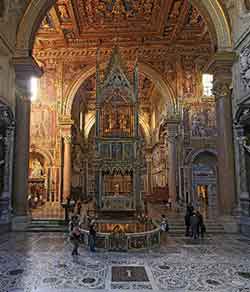 In this pattern there would be an ambo for the proclamation of the Word of God, a free-standing platform in the midst of the nave to proclaim the Scriptures. Some surviving examples symbolise the proclamation from an empty tomb – all Scripture interpreted in the light of Christ's Resurrection.
This is not the pattern, sadly, that we usually encounter. The pattern we are mostly used to is of an apron-like stage with an altar and lectern and other furnishings. Even a font. Altar rails previously completed the picture.
Renewal and reform has regularly merely removed altar rails, extended the sanctuary platform forward, even making it into a raised peninsula with seating on three sides.
Rarely have I seen a church building patterned on the Roman basilicas mentioned, with an altar on a platform high enough to be seen but small and in the midst of the gathered community, and an ambo also in the midst of the gathered community (with a possible imaging of the empty tomb), and movement of the community from ambo to altar with the fuller ritual participation in liturgy.
Source of the image of the Basilica of Saint Paul Outside the Walls
Source of the image of the Archbasilica of St. John Lateran
Thanks again to Dom Daniel McCarthy for his reflection which formed the basis of my blog post.
For more on church architecture click here.
Similar Posts: