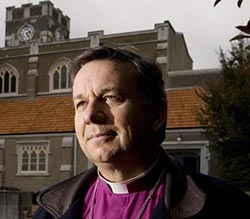 New Zealand's Archbishop David Moxon has accepted the position of the Archbishop of Canterbury's Representative to the Vatican, and Director of the Anglican Centre in Rome.
David Moxon has been a friend of mine for decades. He is a warm person with true depth of spirituality, a deep bicultural and multicultural understanding, and a catholic understanding of our Anglican heritage. Since 2010, he, together with RC Archbishop Bernard Longley, has been co-chairman of the Anglican Roman Catholic International Commission. He has been a bishop for two decades, and Archbishop for seven.
I am sorry that the Anglican Church here will lose one of our great leaders, but I also think this is a wonderful choice for the wider Anglican Communion and for relationships with the Roman Catholic Church.
Archbishop David was asked to consider the role earlier this year. After months of prayer and consideration he applied, and he was offered the post by Dr Rowan Williams – who says he is "personally delighted" that Archbishop David accepted.

"There can be few people in the Communion so well qualified for this work," says Archbishop Williams. "Archbishop David has done distinguished service to the Anglican – Roman Catholic dialogue both locally and globally, and brings to this post both a wealth of experience and a range of profound friendships across the confessional frontiers."

Archbishop David says he felt compelled to heed the call that came his way.

"Our two churches are on the verge of new opportunities for joint mission," he says, "especially in the aid and development area. I'm also convinced there are new opportunities to learn from each other, and to support each other in the sacred cause for which Jesus gave his life and blood."
Archbishop David will succeed the Very Rev David Richardson who, prior to his appointment to Rome in 2007, was Dean of St Paul's Cathedral in Melbourne.
Let us pray for David Moxon, his family and diocese, the wider Anglican Church in these southern lands, the Anglican Communion, and ecumenical relationships and our common witness and shared mission.
[Update: I had too many comments, on facebook, and even here, about the ambiguity of my post's title, so, taking readers' advice (especially on facebook), and following the example of my blogging Kiwi priest friend, Peter Carrell, I changed the title from "Anglican Primate to cross Tiber" to what it now reads. Blessings. 😉
Further update: Archbishop David's own diocese has now confirmed "Archbishop David is going to Rome!"]
Similar Posts: