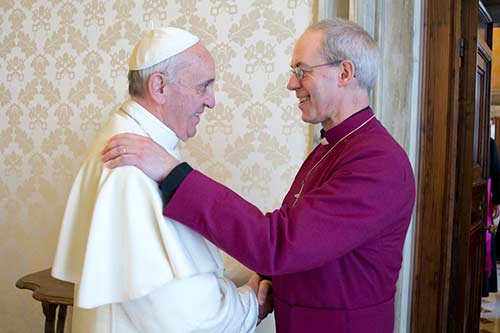 This month, Pope Francis and Archbishop of Canterbury Justin met for the second time.
Some are often over-optimistic – organic Christian unity can be made to look just around the corner. A long list of documents agree on everything from the eucharist, church, ministry, authority, salvation, ethics, and Mary. There is not one single area of theology in which we do not have some measure of agreement.
Some are often over-pessimistic – (newer) barriers include ordination of women, controversy about gays, disunity within Anglicanism, Anglican Ordinariates,…
The reality is probably closer to person-to-person encounters. The Archbishop is a Benedictine Oblate with an appreciation of Ignatian spirituality who invited Chemin Neuf, a French Catholic community with an ecumenical vocation, to live with him at Lambeth Palace. Pope Francis is influenced by charismatic renewal (as is Justin). Receiving from one another's traditions, "receptive ecumenism", may be a new way forward. What treasures might we receive from one another?
While in Rome, Archbishop Justin launched the new International Anglican-Roman Catholic Commission for Unity and Mission (IARCCUM) website. Do take a look. Then pray for Archbishop Justin and Pope Francis, and both churches.
Further reading:
Could the Archbishop and the Pope really reunify the Church?
Two traditions, one holy ground (H/T Fr Ron Smith)
Archbishop meets Pope Francis in Rome
Similar Posts: