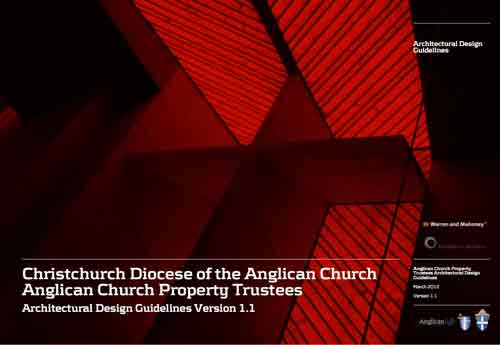 In some sense this is the sixth post in a series I had running. Each post in that series was called "church architecture". I am changing the title as I kick off a new series, because a week ago the Christchurch Diocesan synod "adopted the Architectural Design Guidelines (PDF link) as a framework to guide the interpretation of the design of Anglican Church buildings". The synod also "commended them to the wider Church for study and use."
[I do not know why the Architectural Design Guidelines have been removed from the Diocesan website. It was I who requested that they be put there in the first place. At least you can read them on this site (link above). I have forwarded my previous five "church architecture" posts, and will continue to send this new series as part of the requested dialogue and consultation. We are assured that these Guidelines are a "living document" and, hence, your comments below are part of a way of seeking them to develop positively and usefully.]
Church building orientation
Recent discussions alerted me to the need to reflect on a church building's orientation – the direction it "faces".
Orientation is a significant issue in Anglicanism 😉
The design guidelines have a section on the orientation of church buildings (5.1 on page 64):
Site Planning and Sanctuary Orientation

In the past, and as can be seen from the enclosed diagrams of many parishes, the guiding tradition of associating Christ's entrance into the world with morning light entering the sanctuary end of the church has been followed, either consciously or by tradition.

From a pragmatic point of view this will always be influential in site planning – on sites where existing sacred spaces remain or remnants of existing planning will tend to influence decisions.

Despite this each new site should confirm or reject this tradition as it could be a formative aspect of planning.

Combined with site size, entrance orientation, a more 'square' proportion footprint and a new found emphasis on the landscape, many sites may generate fewer than expected options.
The word "orientation" itself means facing East. Church buildings, traditionally, have been orientated ie. traditionally church buildings face the rising sun, face East. Church buildings have often been built in line with the sunrise on the patronal feast day.
I will soon supplement this blog post with another that has notes on the background and reasons why church buildings face East in this manner [update: that has now been done here]. Suffice to note at the outset that one of our contemporary tragedies is our alienation from nature. Many people cannot describe the direction that the moon waxes and wanes, or have any idea of its current phase, or distinguish between a planet and a star in the night sky. Many Christians could not explain the connection between the lunar cycle and the Easter Season, or the relationship between the daily office and the sun. Slowly, however, there is a reversal of the pendulum swing, and an acknowledgement of our interdependence with nature. At the very least East-facing church buildings architecturally connect us to God's earth.
In the Architectural Design Guidelines 5.1 (pages 65-66) there are diagrams (mentioned above) that show 27 Christchurch churches facing East. [The cathedral in the square is not shown. It faces East] A diagram shows Holy Trinity, Avonside, as facing North. This is incorrect.
Holy Trinity, Avonside, faced East. Like all the other buildings, it faced East. Church buildings in Christchurch faced and face East.
You can find the above image and orientation corroborated here. Google maps are organised so that the top is North. The right hand side is East.
I would note that part of Christchurch's architectural church "memory" is of church buildings which are orientated, which face East. Christchurch has a very strong sense of being a grid-focused city, and the post-earthquakes City Plan determined that this was one of the values that would not be broken.
If a less traditional shape footprint is followed for a new church building complex, and the interior layout proposed abandons any traditional configuration, then discussion about orientating the building becomes meaningless. If, however, a community chooses to follow a relatively traditional building shape, and an interior layout that fits within that tradition, I would hope that, if at all possible, the building be orientated and face East.

This stands in continuity with not only the tradition of Christchurch but also the tradition of Christ's church.
Some previous architecture posts
The community
The cross
The altar
The font
The ambo/lectern/pulpit
The transitional cathedral
Similar Posts: