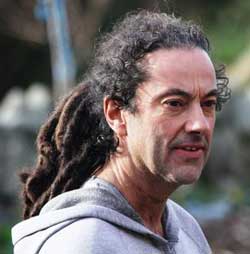 Justin Duckworth, it has just been announced today, will be the next Anglican Bishop of Wellington.
Some, in reporting this news, are focusing the surprise on his looks: he sports dreadlocks and normally wears shorts and is bare-footed. The surprise, more deeply, is half a dozen years ago Justin was not ordained, not an Anglican.
Justin is a leader in what is normally termed the new monastic movement, a movement that I see as a sign of renewal in the church. And I mean the church ecumenically, not within denominational fences.
Justin's tale of leading Urban Vision in Wellington is told well in the Taonga article here. [A precis by Anglican Church Media Officer, Lloyd Ashton, of that Taonga article is found here]. Urban Vision is "a contemporary Order following Jesus on the margins." It has houses in Wellington neighbourhoods where life can be a struggle. In each of those homes, Christians live alongside folk from the margins. Urban Vision includes Ngatiwa, a "contemporary monastery". Justin is currently working on his PhD on New Monasticism and its relevance to the church.
Justin's story includes the recent placing of Urban Vision under the oversight of Wellington's Anglican Diocese, and the ordination of Justin to the priesthood. Justin, then, has followed quite a different path to the episcopate.
I ask you to join me in praying for Justin, his family, Urban Vision, the Diocese of Wellington, and the wider church. [Light a candle in the online Chapel]
Photo source. [I remind those checking out the other photos there that, the captions there notwithstanding, Anglicans need to do more than sign paperwork to become a bishop – whatever else has changed, they still need to be ordained bishop. Currently 😉 ]
Similar Posts: