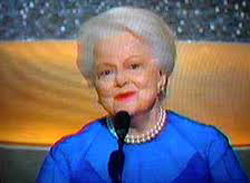 There is an interview of Olivia de Havilland by Bishop Pierre Whalon (Bishop in Charge of the Convocation of Episcopal Churches in Europe) on Anglicans Online about proclaiming the scriptures. It is a good launch-pad for some reflections for those who proclaim the scriptures. The article is copyright and quotes are placed here with permission. The whole article may be read at Anglicans Online:
the reading of the Scriptures is essential to our worship, not just to receive a kind of "holy information" but as meat and drink for our life of faith. Therefore, the readings should be an authentic expression of the reader's own faith — complete with struggles and doubts as well as hope.

Olivia de Havilland was one of the first women lectors at the Cathedral in Paris. In the 1970s, the then-Dean, the Very Rev. Robert G. Oliver, determined to introduce women as lectors. It was a daring innovation for the time in that congregation. According to Miss de Havilland, he began by asking a conservative wife of a corporate executive. She was followed by another impeccably dressed lady of similar standing. Finally he ended with "the movie actress." By then people had grown accustomed to women readers, even liking the contrast with masculine voices. Until fairly recently, Miss de Havilland was on the regular rota for reading.

Today she still reads for major feasts and special occasions, such as a memorial service for another previous Dean, Sturgis Riddle. She kindly shared with me her method of preparation, which is a model for every lector to consider, and not just among Episcopalians.

First of all, Miss de Havilland brings to bear what she herself learned as a fledgling actress under Max Reinhardt, the great theatrical and movie director of the 1930s. She describes what happened: "Just after graduating from high school, I played Puck in an amateur production of A Midsummer Night's Dream in the California village of Saratoga where I was brought up. Having won a full scholarship to Mills College [in Oakland, California] where, upon enrolling in late September, I planned to major in Drama and Speech Arts, I wanted to watch the great Max Reinhardt's rehearsals of his Hollywood Bowl production of the same play. After auditioning for Max Reinhardt's assistant director, to my surprise and great good fortune, I was appointed second understudy to the role of Hermia and finally inherited the part! My engagement in the Hollywood Bowl production prevented me from enrolling at Mills – which I never attended."

Then Reinhardt asked her to take the part of Hermia in his touring company, and eventually, the film version of the play. "He was the type of director who showed you what he wanted by acting the role himself," Miss de Havilland said. "I made notes of everything he wanted, devising a sort of hieroglyphics for myself in the script. That way, I could reproduce his inflections on the words to his satisfaction."

She showed me the texts she had read last Christmas Eve. Each was printed out in large type, and festooned with underlines, semi-colons, and other diacritical marks. "I think I prepare in a way the Church would not approve — I add punctuations." I replied that the original Hebrew and Greek texts of the Bible had virtually no punctuation at all. "The punctuation marks help me to get the right inflections."

And how can she tell what to choose? "I start on the preceding Monday by reading the texts I am assigned. The next day I re-read them, and I think the night's sleep often helps me see things I hadn't noticed at first." Then Miss de Havilland wrestles with the text, to find its underlying "architecture." "You have to convey the deep meaning, you see, and it has to start with your own faith." During the days that follow, she tries to figure out what the text means to her, and then how best to get it across.

Blessed with a resonant alto voice as well as her training, she reads with a natural authority. "But first I always pray. I pray before I start to prepare, as well. In fact, I would always say a prayer before shooting a scene, so this is not so different, in a way."

She likes the New Revised Standard Version, though she often prefers to use the Revised English Bible, the heir of the New English Bible, for its poetic style. (In fact, I prefer it as well in many instances.) But Miss de Havilland finds some texts very difficult to read in this authentically personal way that she has developed: "That Yahweh can be so awful sometimes!" she pointed out.

To sum up, reading the Scriptures in church has to be an authentic proclamation of the reader's faith. Preparation is essential — there are far too many last-minute readings in our churches. In order to get across the words so that they become for the listener the Word, not only must the reader be trained in the rhetoric of reading aloud but must also be willing to risk wrestling with God over the meaning. Not all biblical texts are comforting, as Miss de Havilland pointed out. People of faith always have doubts — only those who have no faith have no doubts. It is when we have well prepared the text, rehearsed the inflections to give various key words to as bring forth the meaning, and prayed for the Spirit's help, that we can be authentic proclaimers of the Good News that lies in the Word written.

Not everyone will have the talent and experience of an Olivia de Havilland. That is not the point. When the worship comes from the heart, including the readings, and the whole liturgy is done with loving care, visitors "will fall down and worship God, exclaiming, 'God is truly among you!'" (I Cor. 14: 25)

And let her have the last word. "I once asked Jimmy Cagney, 'just what is acting?' He said at first, 'I dunno…' But then he said, 'All I know is that you have to mean what you say.'"
How do you respond to these ideas? What advice do you have for those who proclaim the scriptures?
Similar Posts: