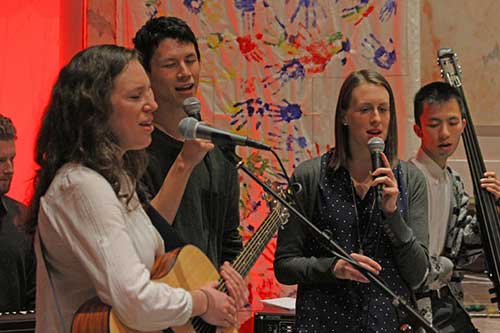 Blueprint Church is a pioneer mission unit of the Wellington Diocese, founded in 2013 as part of the new way forward envisaged by Bishop Justin Duckworth who took up leadership of the Wellington Diocese half way through 2012.
Now, Blueprint has produced "an album of contemporary arrangements for corporate worship drawing on the Eucharist liturgies, Night Prayer and the Daily Offices from A New Zealand Prayer Book / He Karakia Mihinare o Aotearoa." The album is called Reconciled.
You can read an article about this on the online Taonga site. This says that "The album is free to all on Spotify, iTunes, and at reconciled.co.nz from today. Parishes wanting chord charts can request them from blueprintchurch@gmail.com".
Actually, as far as I can see, each track on iTunes is $NZ 1.79. And the chords are already available on the Reconciled website (and, Taonga notwithstanding, I can't find the recording, free or otherwise, on that Reconciled website).
The album is free on Spotify.
I really like what I've heard. The lyrics are easy to hear. The harmonies are delightful.
I cannot ascertain, simply by listening to this, whether this material is, at Blueprint, generally sung by the band or is it also sung by the whole community? How easy is the material for congregational singing?
I am intrigued where the lyrics follow the NZ Prayer Book texts and where they altered them. And why? Did they start with a tune and find the Prayer Book words simply didn't fit? Or do they think that their words improve the Prayer Book's?
We need new, creative ways forward to be Christian communities in today's world. And we need new ways of worshipping. Blueprint and Reconciled are giving this a go.
And Jesus said to them, 'Therefore every scribe who has been trained for the kingdom of heaven is like the master of a household who brings out of his treasure what is new and what is old.'
What do you think?
If you appreciated this post, consider liking the liturgy facebook page, and/or signing up for a not-very-often email, …
Similar Posts: