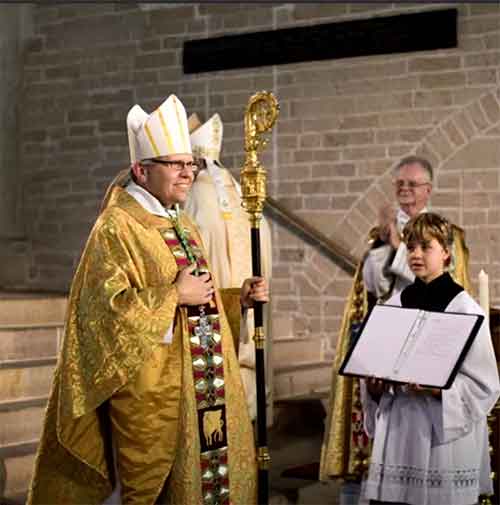 The Old Catholic Church has an interesting history – continuing catholicism in the Netherlands through the Reformation period, continuing the pre-Reformation practice of electing their own bishops, etc. With the nineteenth century declaration of the infallibility of the Bishop of Rome as his "earthly" clout was shrinking with the Unification of Italy, the Old Catholic Church expanded to the Union of Utrecht as people left Roman Catholicism objecting to this infallibility claim (as well as the universal jurisdiction of the Bishop of Rome).
By 1930, Anglican Churches had come into full communion with the Union of Utrecht – recognising and sharing in its full sacramental life. That means that Anglicans and Old Catholics have been fully part of each other's ordinations since that time, fully accepting each other's ordinations.
Bernd Wallet grew up in a Protestant family (Hervormd), stepping over to the Old Catholic Church as a student. He was ordained a deacon in 2006 by Archbishop John Sentamu (who I've met), Archbishop of York. He was ordained priest by the previous Archbishop of Utrecht, Joris Vercammen (who I've also met – yet another connection for me). He was elected Archbishop on 15 February 2020, but Covid delayed the consecration/episcopal ordination until last weekend. In the intervening time, he has been fulfilling all the roles of the Archbishop of Utrecht except those specifically limited to a bishop.
The consecration/ordination of Bernd Wallet as a bishop took place in the Lebuïnuskerk, Deventer. This houses a Protestant community (Hervormd), but Deventer also has strong associations with the Old Catholic Church, including for a time, having a bishop there.
The Installation of Bernd Wallet as Archbishop of Utrecht took place in the Gertrudiskathedraal in Utrecht:
The role of the Archbishop of Utrecht in the communion of churches, the Union of Utrecht, is akin to that of the Archbishop of Canterbury in the Anglican Communion. Archbishop Bernd described his role as being about a third international and two-thirds local. Since 1853 there has also been a second Archbishop of Utrecht, appointed by the Pope. In England, such a parallel Archbishop of Canterbury was not established by the Roman Catholic Church.
Congratulations and prayers for Archbishop Bernd – and for the community he leads.
.
Similar Posts: