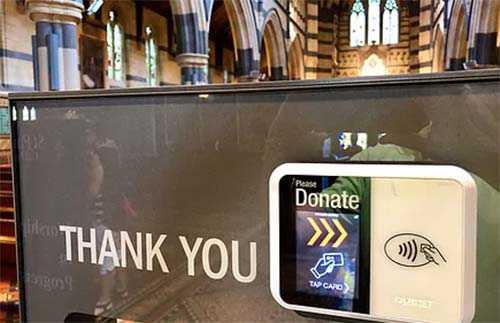 Previously, I've written about a Salvation Army officer using portable PayWave. St Paul's Anglican Cathedral in Melbourne has several PayWave stands (see picture above) with which anyone can give a $5 donation as they go past – simply hold your card to the box.
The Christchurch Anglican Transitional Cathedral has a similar (if slightly more complex) system attached to its physical donation box (see image below).
These are simple, third-millennium, ways of collecting donations from visitors.
[I even was approached on the street recently by a follower of the Hare Krishna movement with the offer of a "free" book for which I could give a donation – and if I didn't have cash, he had a PayWave/card payment system in his pocket].
What systems have you found effective?
Many (most?) parishes/church communities now have ways of directly (electronically) giving regularly from your bank account. When the collection plate comes round, what way does your community have by which such givers can symbolically join in the offering? [This is more than being seen to be a giver – something that some may critique – this is part of the tradition of stewardship and its expression]. How does your community encourage a person's (annual?) review of what is given regularly? What facility is there in your community if a person arrives at a service and wants to make a donation using a card?
What other thoughts and experiences do you have about this area?
I hope, if you appreciated this post today, that you share it (facebook and so on). And do remember to like the liturgy facebook page, use the RSS feed, and sign up for a not-very-often email, …
image source of the top inmage
Similar Posts: