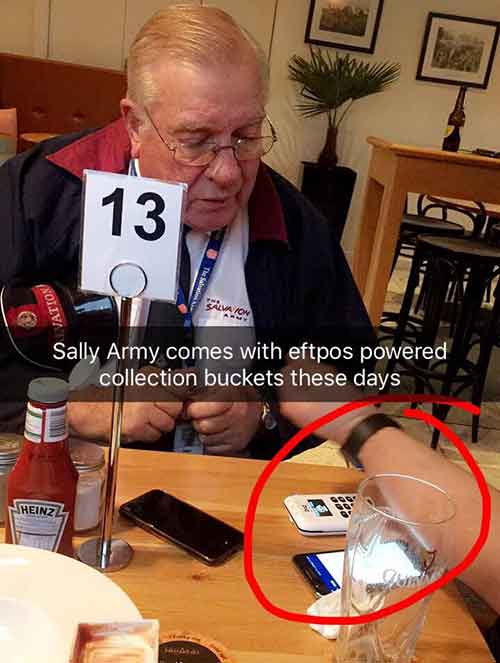 On this site (and elsewhere), I am regularly urging churches and Christians to take up the positives and benefits of 21st-Century (and 20th-Century!) technology.
This is a story where a church IS using available technology.
I was having a drink with a couple of friends when in walked Salvation Army officer Peter Savage with a collection box. My friend said, "I've got no cash on me. Do you take EFTPOS?"* Without hesitation, Peter said, "Yes," and took out what looked like a tiny calculator and his cell phone. The donation was completed not with a card but with my friend transferring money by putting his watch against the "calculator". Welcome to the 21st Century.
I know some churches now have EFTPOS possibility in the foyers of their buildings. Does your church? Does your church website have the option for website-visitors to give a donation?
Do you have a story of church using the benefits of 21st-century technology?
*EFTPOS – Electronic funds transfer at point of sale.
I hope, if you appreciated this post today, that you share it (facebook and so on). And do remember to like the liturgy facebook page, use the RSS feed, and sign up for a not-very-often email, …
Photo by Scott Franklin – used with permission.
Similar Posts: