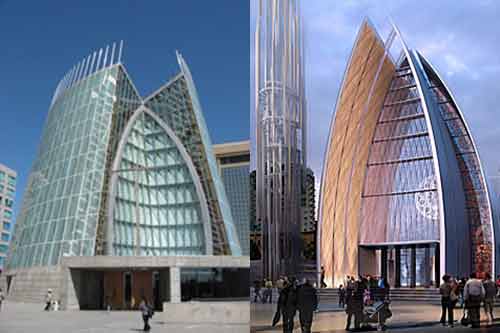 The Saturday Press (Christchurch's newspaper) had a full-page article about the Christ the Light Roman Catholic cathedral in Oakland, California, and its influence on the exterior look of the contemporary option (called "Option 3") for an Anglican cathedral in the centre of Christchurch. Oakland's cathedral was one visited by the Christchurch study tour. I agree with the article that Option 3 looks "most likely to proceed".
The whole article is worth a read. I will merely highlight some similarities and differences between Oakland's cathedral and Christchurch's contemporary plan (Option 3).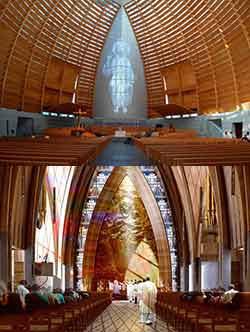 Similarities
Oakland's century-old neo-gothic cathedral was damaged by quakes.
Curving; glass and concrete; timber interior.
Oakland has a massive image of Christ – Option 3 presents a massive image of the Madonna and Child.
The footprints are comparable.
Both seek to be places where people of all faiths are welcome.
Differences
Oakland diocese held an international competition.
Oakland's cathedral is designed from the inside out "with the circle as the organising geometry. This is where the Oakland design departs from Christchurch's: with a circular structure, the architect put the congregation around the altar "as one community". This evolved out of current Catholic liturgy, [Hartman, the architect] explained. The Second Vatican Council promoted the creation of community through church design. The traditional cross layout, which Christchurch keeps, was dropped for a fish-shaped floorplan, referencing the symbol used by very early Christians."
Oakland's cathedral includes "a conference centre, bishop's centre and diocesan offices".
Oakland's cathedral places the significant font centrally as one enters the worship space.

You can read more about the Christchurch cathedral options here and here. Especially about ways I think that Option 3 can be improved. You can, of course, leave comments here, as usual. If you want to give your opinion directly to those making the Christchurch cathedral decisions, go to Cathedral conversations.
If you appreciated this post, there are different ways to keep in touch with the community around this website: like the facebook page, follow twitter, use the RSS feed,…
Similar Posts: