On Saturday the Christchurch Chapter of the International Thomas Merton Society, it being 100 years since the birth of Thomas Merton, organised a day of Prayer and Pilgrimage. After gathering for a cuppa, welcome, and morning prayer, we set off for the Carmelite Monastery of Christ the King for quiet time and Midday Prayer with the sisters.
It was wonderful to see how they are flourishing. A community of ten, they have a novice and two others to be solemnly professed later this year.
Then on to Christ's College. Thomas Merton's dad, Owen, went to school here. Owen's dad is acknowledged in a plaque, his uncle in a window, and his cousin, killed in World War I, on the memorial.
Again we stopped for prayer, and then looked at the display on the Merton connections with the school in the library, set up by our archivist, Jane Teal.
Then we went on to Waimairi Cemetery. Prayer and Thomas Merton's poem at the death of his brother (Joan Baez set this to music – if you know where we can hear this, especially online, please let us know).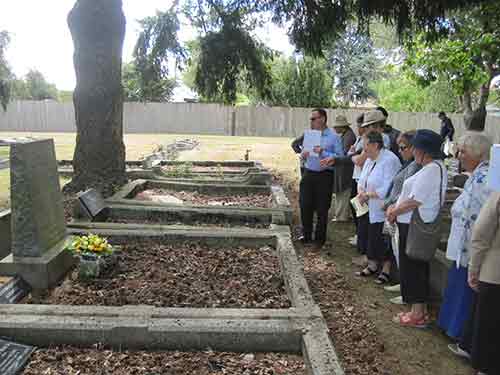 Here are the graves of brothers Alfred and George, Gertrude, Kit, and Ka; Owen's name appears on the stone, but we know he is not buried here. Thomas Merton corresponded with his grandmother, Gertrude (who had taught him the Lord's Prayer), and then his aunts Kit and Ka. It was Kit who was killed in the Wahine tragedy.
We concluded the day with prayer and sharing stories. John (Thomas Merton's cousin, Llyn's son) had come down with his wife from Auckland. Sue (George Henry's great-granddaughter) had come down with her husband from Napier.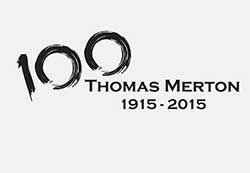 We are conscious that there are events like this happening all over the world: St James Institute Sydney (here is one presentation, by Fr Michael Whelan); with further events planned throughout the year.
All of us having a longtime interest in Thomas Merton it was the less-known stories that delighted us: Thomas Merton's grandmother when she saw the plans of 35 Cambridge Terrace by architect Harman, with it facing as it would in the Northern Hemisphere, said to rotate it through 180 degrees.
Aunt Kit sending another woman into a lifeboat saying, "I'm an older woman; I've had a good life. Now you get on that boat!"
How Charles, killed in WWI was not spoken of in the family. (Apart from the recording of the name on Christ's College board with Old Boys killed in WWI, while the family had the memorial window to George, there is nothing to Charles, their only son). Charles had a son, Anthony, who was adopted by his sister when he died; and his grand daughter has now been tracked down.
A great day. Thanks to all who organised it, to all who came, and also to Carmel for their delightful including of us.
Source of the Merton family photo at the top: Thomas Merton Center at Bellarmine University
Similar Posts: