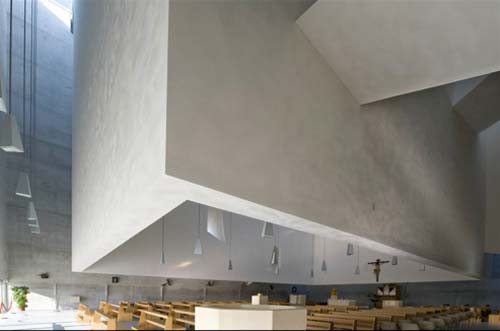 Thanks to regular participant in this community here, Brother David, for pointing to this article on contemporary sacred architecture.
It comes with this slide show.
The article is written by Lukas Feireiss, co-editor of Closer to God: Religious Architecture and Sacred Spaces
. He writes:
In however diffuse and varied a form, the numerous examples of recently-built sacred buildings featured in the book Closer to God vividly illustrate the co-existence of traditional concepts and patterns hand in glove with modern principles, and novel approaches freed from the shackles of historicism in buildings of faith today. Despite their different, respective context and approach, all of these buildings not only thrive for the extraordinary and experimental, but are in their extroverted architectural stance also characterized by a deliberate spatial introversion, a distinguished sense of conscious retreat from the everyday into an innermost sanctum. Thereby their concepts are particularly ample in metaphors, usually unfolding an abundance of historical and thematic relationships in the fundamental formulation and development of the building's shape and narrative surplus.

Maybe the strength of contemporary sacred buildings a decade into the 21st century lies in their ability to allow the cracks and ruptures, contrasts and contradictions between the past and present co-exist. Offering us a level and a depth of contemplation that we cannot live without, and that we need to experience religion, the sacred building is still the image, the manifestation of a higher level of order and meaning. The building as a whole, its material form and individual elements, are a starting point for a journey of reflection that tries to exceed the visible to probe its intelligible basis.
The image above is particularly pertinent to our Christchurch/Canterbury NZ post-earthquake context:
Situated in Perugia, Italy, the city of Foligno has endured its share of natural disasters, including destruction by earthquake on several occasions, most recently in 1997. The project was given the go-ahed in 2001 after wining national competition organized by the Italian Episcopal Conference for the construction of a new church. It is situated on the very spot of a container camp that once provided shelter to the homeless and is intended as a sign of hope for the area. The church building is conceived as a box within a box, and the interior view of the congregation space shows the two rectangles inserted into one another. (Photo credit: Moreno Maggi)
Similar Posts: