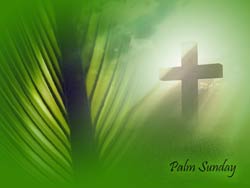 I have regularly, on this site, pointed out when Roman Catholics and Anglicans/Episcopalians are praying the same collect/opening prayer at a celebration. I am no strong advocate of the new Roman Catholic English missal translation, but one thing that this new translation has done is made it more visible and obvious that Roman Catholics are praying the same collects as Anglicans/Episcopalians. Previously the Roman Catholic translation often came up with a more "dynamic equivalent" translation that looked quite different to what Anglicans had. This made it difficult to spot the prayers in common. I had noticed a handful of collects that we prayed in common – often on the same day. Now I am noticing that about half of the Sunday collects we share in common. Palm Sunday is such an example.
Anglicans/Episcopalians on Palm Sunday pray
Almighty and everliving God,
in your tender love for the human race
you sent your Son our Savior Jesus Christ
to take upon him our nature,
and to suffer death upon the cross,
giving us the example of his great humility:
Mercifully grant that we may walk in the way of his suffering,
and also share in his resurrection;
through Jesus Christ our Lord,
who lives and reigns with you and the Holy Spirit,
one God, for ever and ever. Amen.
Roman Catholics used to pray
Almighty, ever-living God,
you have given the human race Jesus Christ our Saviour
as a model of humility.
He fulfilled your will
by becoming man and giving his life on the cross.
Help us to bear witness to you
by following his example of suffering
and make us worthy to share in his resurrection.
Yes – I can see now that it was based on the same prayer, but only because the new translation made me look at it again. Roman Catholics this Sunday will pray:
Almighty every-living God,
who as an example of humility for the human race to follow
caused our Saviour to take flesh and submit to the Cross,
graciously grant that we may heed his lesson of patient suffering and so merit a share in his Resurrection.
Who lives and reigns with you in the unity of the Holy Spirit, one God, for ever and ever.
Roman Catholics have even altered what the prayer is called. It used to be called the "opening prayer". Anglicans have always called it the "collect". Now both Anglicans/Episcopalians and Roman Catholics call it the "collect".
I propose that whenever Roman Catholics pray a collect that is part of the Anglican/Episcopalian heritage that we all pray that collect (in the minor translation variations of our traditions) on that same day. This (along with our regularly reading the same scriptures) is another step in unity. For those who believe in the power of prayer (including the power of two or three agreeing in prayer) here is much of the Christian world praying for the same thing. In Ordinary Time this prayer is the prayer we pray every morning and evening and at every Eucharist generally for a week.
[I think we can also be open to varying the address to expand the images of God in the collects, understanding, of course, that sometimes the address links directly to the rest of the prayer. I think there are also a variety of ways to have the Trinitarian conclusion – although I think the cue should be clear for a resounding "Amen" when the prayer is proclaimed without others following the text].
Further commentary to Palm Sunday's collect is here. The main commentary to the collects, on this site, is here. I intend to rework the commentaries to bring them up to date with the new Roman Catholic translation.
Similar Posts: