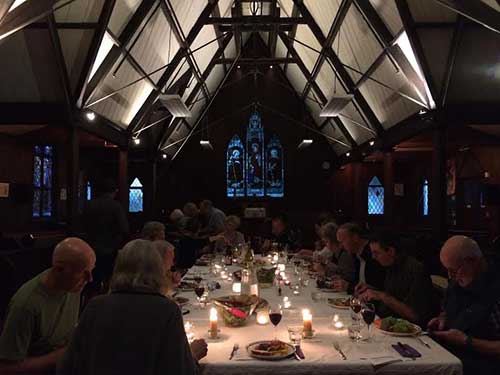 In a recent post, where I argued against Christians organising their own Passover Seder, I also promised that I would blog about combining the Eucharist with a meal. This is that blog.
I am indebted to the Rev'd Clare Barrie, vicar of the Anglican Parish of Saint Luke, Mount Albert (Auckland NZ). This information is drawn from that parish's doing a dinner series for Lent. Thanks also, obviously, to that community – particularly those who participated. The photo above is from that experience, and the notes that follow are edited slightly from Clare's discussions with me (all used with permission).
This a version of what's being called 'dinner church' in other parts of the world (particularly TEC).

We moved our church furniture around just before Lent so that there's an open space down the centre of the church (on the axis of the altar, lectern and font). This space fits a couple of trestle tables set lengthwise.

We put together a very, very simple liturgy of the eucharist according to the prayerbook template [A Form For Ordering The Eucharist pp 511ff]. We set the table for dinner, with food all ready to serve, and everyone took their seats. Then to begin the evening, at the 'head' of the table I had a chalice and paten ready with two candles lit. I put on a stole and after welcoming everyone, we moved into the liturgy (I had placed liturgy booklets on each place setting). When it came time for administration, the bread then wine were passed down around the table, each person receiving then offering to their neighbour.

Once all had received we then 'suspended' the liturgy, served dinner around the table and opened some wine bottles and moved into enjoying time together. To mark the transition I had tapers ready and lit them from the two candles and passed them down the table so all the other candles set down the table could be lit. Once most people had finished most of their dinner, we moved into some guided conversation on a pre-selected theme (a different topic each week, eg. 'hospitality').

When we drew that to a close, we returned to our liturgy for 'prayer after communion' and the blessing and dismissal.

It was a great experience and those who attended found it moving, surprising, and powerful to be sharing a meal in a space which is so sacred and liminal to them. We have done any number of church dinners and lunches as a church community of course, but as one person commented, it felt profoundly different to be doing that in the church (rather than our parish hall).

Part of the goal is to shine a light on the Sunday experience of eucharist, so that that becomes transformed by the experience of these evening dinner eucharists. It is SO HARD (I've found!) to wake people up to what happens in the liturgy on Sunday, why we do what we do etc. We can talk about its significance until we're blue in the face – but then people just put their noses back in their books and put one foot in front of the other. The liturgical auto-pilot is so, so strong.
This, to me, isn't trying to replicate an imagined service a-la 1 Corinthians or any other archaeological fantasy. It isn't trying to do a mock-Passover-Seder/Eucharist. This, to me, is one way of celebrating Eucharist so that that has its own integrity, whilst putting it into the context of a meal – one of the most important dimensions of the Eucharist.
What do you think?
If you appreciated this post, do remember to like the liturgy facebook page, use the RSS feed, and signing up for a not-very-often email, …
Similar Posts: