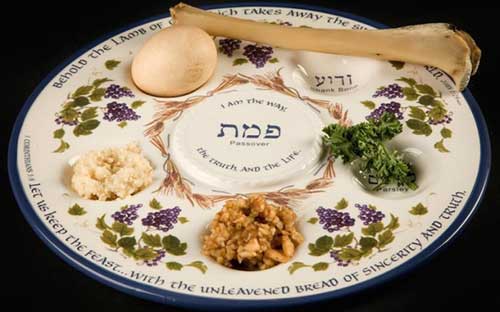 This is the time of year when some Christians organise their own Passover Seder. There are several articles cautioning against doing so. Here are a couple:
Why Christians should not host their own passover seders
Say no to Christian seders
Study the Jewish Passover Seder by all means – but take care about attempts at replicating it.
If you are lucky enough to have Jewish friends or family, and are invited to a seder, you may find that sitting as a minority amongst a table full of people who are part of a community that has celebrated Passover for hundreds of years, many of whom have eaten these foods every year since they were born—and with individuals who look forward to this holy feast with the same anticipation many of us feel for Christmas—you will sing Dayenu and feel that truly, the blessings that God has extended to you are enough and you do not need more.
I would add to these points that we Christians have our own, perfectly good liturgical rites to celebrate Christ's last week, death, and resurrection. Here are some:
Maundy Thursday
Good Friday
Easter Vigil
I also want to emphasise that celebrating a "Christian Passover Seder", say on Maundy Thursday (Holy Thursday), confuses Christian understanding. Christianity applies the Jewish passover paradigm not to Maundy Thursday but to the death and resurrection of Jesus. It is not Maundy Thursday that, by itself, celebrates the "Christian Passover". In fact the Christian tradition is quite clear. The Sacred Triduum is one ongoing service beginning on the evening of Maundy Thursday, the service stopping without a dismissal. On Good Friday we pick the service up again, beginning without a greeting, and stopping again without a dismissal. This long service with interruptions only concludes with the Easter Vigil.
I will, on another occasion, blog about combining the Eucharist with a meal, but to do so at this point could muddy the waters.
If you appreciated this post, do remember to like the liturgy facebook page, use the RSS feed, and signing up for a not-very-often email, …
Similar Posts: