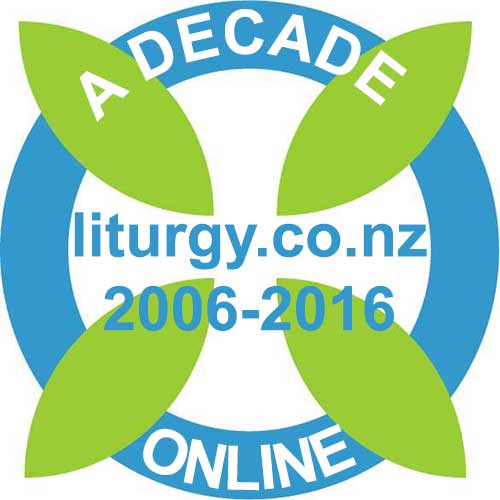 Ten years ago, on Maundy Thursday, 13 April 2006, I put my book, Celebrating Eucharist, online for free on this site liturgy.co.nz. I was soon surprised at the number of people visiting the site and, little by little, began to add some more resources.
After some time, people urged me to add a blog – the possibility of commenting. I was very reticent about this. Most of the (religious) blog sites I visited were hotbeds of intense, ad hominem arguments. But I was convinced to try it. I wanted to have a culture (and I think we mostly do have one) where people realised that on the "receiving end" of the screen is an actual person, with feelings, commitments, joys, sorrows, doubts, and problems. Our culture heree is that people use their real name, no ad hominems, play the ball (the topic) not the person.
I started by building the site using Dreamweaver. I knew absolutely nothing about websites and learnt by making lots of mistakes. Then I was recommended RapidWeaver, which I bought and with that totally rebuilt my site. Then I switched to WorPress and bought Headway as the drag-and-drop theme. I still have more of the RapidWeaver pages to rebuild.
Thank You
In thanksgiving for this decade, the primary thanks goes to you. Your presence here, your encouragement and support, is what keeps this site going.
Twitter (with about 79,000 followers) and facebook (with about 11,000 likes) became part of the online liturgy community. And it is a community – there is support and sharing, conversations and laughter. This is a place passionate about translating our ancient wisdom traditions and practices into our contemporary context. And that context includes the digital world in which so many, many people live so much of our lives now. Mission and ministry in the (not so) new internet world is (sadly) still a (scary) novelty for many Christians and many Christian communities and churches – analog Christians and communities in a digital world.
So between today (Maundy Thursday) and 13 April 2016 (and beyond) let's celebrate a decade of liturgy.co.nz being online – hundreds of pages; over two thousand posts; over 17,000 comments (not mentioning the over half a million spam comments); over a thousand on the for a email list; over 4 million visitors; and a social-media reach at times to over a million people! Thank you all for your support and encouragement. Let us continue to pray for each other.
Let us know in the comments here if you have a link from your site to this one – or if you have referred to this decade-celebration, or reflected on online mission and ministry.
If you appreciated this post, do remember to like the liturgy facebook page, use the RSS feed, and sign up for a not-very-often email, …
Similar Posts: