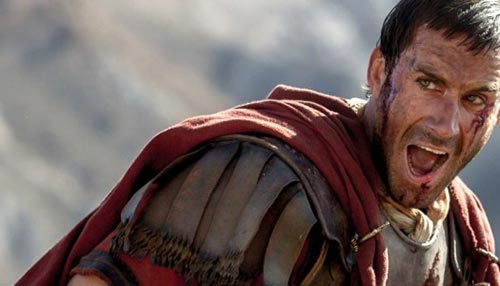 The following post was prepared before the Triduum, and has been published automatically. There will be no further activity on this site until Easter Monday. Those who are not celebrating in church might consider going to the movie Risen.
I recently went to the movie, Risen. It is the story of a Roman Tribune, Clavius (Joseph Fiennes) and his new offsider Lucius (Tom Felton) tasked to find the missing body of an executed Jew [Jesus – Yeshua is a Kiwi, Maori in fact (Cliff Curtis); thankfully not caucasian] rumoured to have risen from the dead.
My preference is seeing spiritual messages within ordinary movies. Religiously-motivated movies are often pious, saccharine, poorly-acted, tiresome pieces to endure. Risen has quality actors, and the trailers were mostly encouraging. My appreciation of this movie has swung back and forth.
I began with my prejudice about yet another faith-inspired movie. But the quality of the actors, and the interesting trailers piqued my interest and shifted me to a more positive perspective.
The start of the movie lived up to this more positive perspective: excellent, accurate portrayal of Roman battles and the life of people contemporary with Jesus.
Then I struggled with some of the verbosity, but more so with inserting Clavius (I'll try not to have too many spoilers) into the well-known New Testament stories.
My frustration caused me to further reflection. And to go into the next swing of my appreciation pendulum. I realised that I was "literalising" the resurrection stories which have been written to convey not merely history but the mystery of Christ's Resurrection – an inexpressible mystery within and beyond history.
It was the explicit acknowledgment to myself that my frustration at root was this literalising/historicising I was doing that helped me to look at the Risen story differently in my final swing of the pendulum towards the positive. This movie is another presentation of Jesus' execution and resurrection story – in film form.
I recommend this film – including for people of no faith; this could be their non-church-going Easter.
If you appreciated this post, do remember to like the liturgy facebook page, use the RSS feed, and signing up for a not-very-often email, …
Similar Posts: