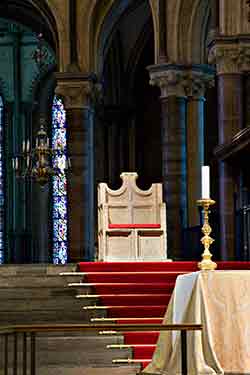 The Crown Nominations Commission (CNC), after meeting for three days has failed to agree to a name to present through David Cameron, the British Prime Minister, to the Queen for her appointment.
The official media release is:
This week's meeting of the Crown Nominations Commission (CNC) has been accompanied by much speculation about possible candidates and the likely timing of an announcement of the name of who will succeed Dr Rowan Williams as Archbishop of Canterbury when he steps down to become Master of Magdalene College.

The CNC is an elected, prayerful body. Its meetings are necessarily confidential to enable members to fulfil their important responsibilities for discerning who should undertake this major national and international role. Previous official briefings have indicated that an announcement is expected during the autumn and that remains the case; the work of the Commission continues. There will be no comment on any speculation about candidates or about the CNC's deliberations. Dr Williams remains in office until the end of December.
[UPDATE: in response to people's angst, I have re-opened the online petition to The Crown Nominations Commission and Britain's Prime Minister: That Geraldine Granger be appointed Archbishop of Canterbury by the Queen. SIGN UP – tell your friends]
ps. this Southern-hemisphere blogger is little surprised, in the present state of the Communion, at how many Anglicans still live on a flat earth. By "an announcement is expected during the autumn", for those of us having moved on to accepting the world is round, for half the planet they mean "the Spring"! [Unless they are really going to drag it out…]
pps. For those of you who can cope with the "F" word – they were secretly filming the meeting (as you know they do!)
Similar Posts: