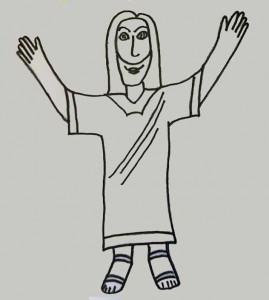 First there was Flat Stanley. Now there is Flat Jesus. [Theologians: was Flat Jesus actually before Flat Stanley?]
St James Episcopal Church in Birmingham, Michigan has started a Flat Jesus project. This includes a facebook page:
Do you sometimes wish that Jesus was right there beside you as you navigated through your day? He is, as FLAT JESUS. This visible expression of your faith is a great opportunity to create conversations with your friends & family as you take him with you.
and The Adventures of Flat Jesus.
Send Flat Jesus to every corner of the world! Let Flat Jesus be a reminder of the Jesus' real presence in every place we find ourselves! Join Flat Jesus as he travels with various adventurers!
[Previously there has also been a Flat Andy, Bishop Andy Doyle]
Instructions: click on image to enlarge. Enlarge further as desired. Print. Colour. Photograph. Discuss. Etc.
More here at Elizabeth Kaeton's site Telling Secrets.
Similar Posts: