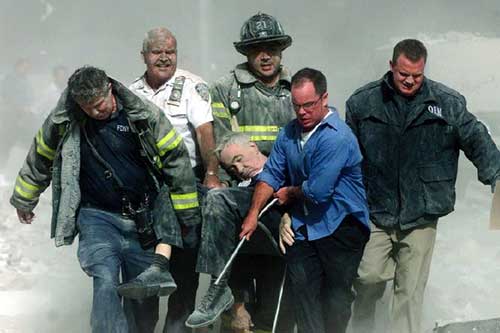 The image, above, is the iconic photo of the body of Fr. Mychal Judge, Franciscan Priest and beloved chaplain to the N.Y. fire fighters, being carried out of the ruins of the World Trade Centre 15 years ago, September 11, by his fire fighter buddies.
It has been described as a contemporary Pieta.
His regular prayer:
Lord,
Take me where you want me to go,
Let me meet who you want me to meet
Tell me what you want me to say,
and keep me out of your way.
It appears that Fr Mychal was the only priest to actually enter a WTC building, offering prayer and assistance – until his death there.
He was officially counted as 'victim number one' of the September 11 terrorist attack on the World Trade Centre.
If you appreciated this post, do remember to like the liturgy facebook page, use the RSS feed, and sign up for a not-very-often email, …
top image source
statue image source
Similar Posts: