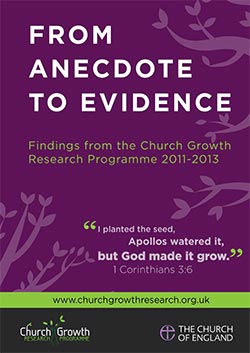 I have opinions about how to grow Christian communities:
Real, authentic worship – where people come and find a community intent on a journey of growing into their relationship with God; where there is a sense of the numinous; where it is clear people really care about this; beyond recitations of page numbers, pious poetry recitals, flashy screens, entertainment, novelty…
Well formed, trained leadership who make connections between our inherited tradition and our current real context in heart, and head, and hands…
True caring – both for those within the community, and beyond it…
Common prayer – why return to community worship when there is no value placed on this being communal; when you can do this just as easily (or better) at home; alone…
Numbers are not the be-all and end-all. But they also are not unimportant. I've written often enough about the value of small, enthusiastic, flourishing communities with deep worship, growing members, serving in their daily life. This post is not about how to make every small church into a mega-church, it is about thinking about the trend of communities struggling to survive, and tending in that direction.
These points are based entirely on my own experience and reflection. They are anecdotal-like.
In the Church of England there has been a programme which ran for 18 months between 2011 and 2013, seeking to investigate the factors influencing church growth in the Church of England. It focussed on finding areas of ministry which are showing numerical growth – and finding out why. You can read the findings for yourself, From Anecdote to Evidence.
There is no single recipe for growth; there are no simple solutions to decline. The road to growth depends on the context, and what works in one place may not work in another. What seems crucial is that congregations are constantly engaged in reflection; churches cannot soar on autopilot. Growth is a product of good leadership (lay and ordained) working with a willing set of churchgoers in a favourable environment.
So read their lips: there is absolutely no correlation between worship style and growth. Those who tout everything from Messy Church through Fresh Expressions to Bands with Overhead Projectors as the recipe for growth are simply not backed up by statistical evidence.
There is one (surprising?) exception: cathedral-style worship is dramatically increasing in attendance. "Cathedrals are shown to have experienced overall growth in numbers over the last decade and especially in weekday attendance."
Overall weekly attendance (based on 42 cathedrals) grew by 35% between 2002 and 2012. Especially significant is that weekday attendance has more than doubled in ten years (from 5,600 in 2002 to 12,400 in 2012).
The report did manage to produce some principles:
Good leadership
A clear mission and purpose
Willingness to self-reflect, to change and adapt according to context
Involvement of lay members
Being intentional in prioritising growth
Being intentional in chosen style of worship
Being intentional in nurturing disciples
The NZ Anglican Church appears committed to not keeping province-wide statistics. This makes it nigh-on impossible to move from anecdote to evidence in our particular context. Though some of our context is different, those of us interested in seeing Christian ministry and mission continue in our land will do well to pause with what the Church of England is offering us in this report. Wherever you are who are reading this, you too will be able to reflect and make connections.
Like Liturgy on Facebook.
Subscribe to the RSS feed.
Similar Posts: