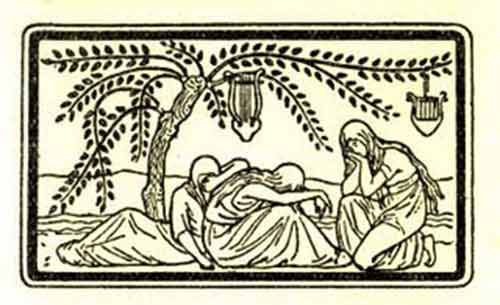 In many ways, in many places, this has been a bleak month. War, and more war…, suicide, riots,…
How can we sing God's song in this context…
And we find people taunting us. We find our inner voices taunting us…
So Psalm 137 articulates this reality. In its time, the incredible had happened: the Southern Kingdom sacked, Jerusalem attacked, and most unbelievable of all, God's house, the temple, destroyed. All but the lowest classes were dragged off to exile in Babylon.
By the rivers of Babylon—
there we sat down and there we wept
when we remembered Zion.
On the willows there
we hung up our harps.
For there our captors
asked us for songs,
and our tormentors asked for mirth, saying,
'Sing us one of the songs of Zion!'
How could we sing the Lord's song
in a foreign land?
The psalm says we refuse to sing. We even put away our instruments.
We have been doing something the irony of which may be lost on some. We have been singing Psalm 137 together. We have been singing that we cannot sing; we have been singing that we will not sing!
TV3 reporter, Mike McRoberts, reported from the Gaza crisis
When I first saw five-year-old Maha Sheik Khalil I thought she was dead. Her tiny frame seemed so still. Then I was told shrapnel in the back of her neck and severed her spinal cord and she was unable to move. The hospital doesn't have the equipment to operate on her and so she had spent four days just lying on her back.

In the faintest of voices she told me that her home in Shajaiya had been bombed and her mother and two sisters killed. She had been stuck under rubble for six hours before neighbours rescued her.

Between sobbing, my interpreter translated her story. We learned her she had two brothers somewhere else in the hospital but she didn't know where.

The image of her lying there by herself with no one to comfort her still brings me to tears. I'm picking it will for some time. I was determined to show as many faces in my 3News stories as I could. I am sick of hearing about death tolls and the number of wounded. One innocent life lost is enough.
How do we sing God's song when all we see is violence and there appears no hope for the future? How do you sing God's cheerful song when you are is such a dark place – that you wish for death, one's own or that of others. That is what we've been seeing recently. And how sad as I watched Maha on TV, this little girl, to hear her hope that the Israelis would be killed.
Psalm 137 is not saccharine piety. It's not happy-happy-jolly-jolly spirituality. This lament ends:
O daughter Babylon, you devastator!
Happy shall they be who pay you back
what you have done to us!
Happy shall they be who take your little ones
and dash them against the rock!
This psalm is bleak, a lament; and angry.
In this psalm and other laments we are given some gifts and some challenges.
We are given the realistic spirituality in which we can be honest and admit things are bad; that we are in a dark place; that we are enraged.
A challenge is – that some of us may cause hurt in the lives of other, because some of us may not be sitting by the river weeping and ranting, some of us may be the oppressors, the destroyers, those in power in Babylon. Some of us enjoy the privileges of empire – how might we undo that and bring justice and good and joy and fulfilment and flourishing to all?
And then this ironic gift, where we can join together, in singing this psalm we are encouraged to help each other, to be a community. If we are struggling, if we are in a dark place – join together as friends, as a community – we can work against what is wrong in our lives, what is wrong in the world. Together.
Postscript: I had been trying to find out whether Maha had been airlifted to a hospital which could provide surgery for her. Thanks to Tom Rayner from Sky News who let me know "Paralysed Maha Sheik Khalil has crossed out of Gaza – her relative is with her. She'll soon be on a flight to Turkey." More information here.
Similar Posts: