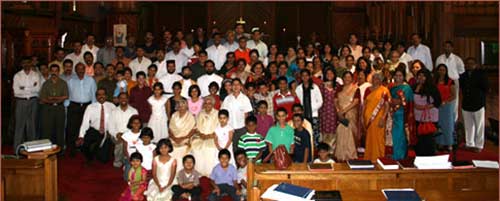 I presumed that there are a variety of Christians from India in New Zealand, but I don't think I knew, until Phillip Tovey told me, that there is at least one Mar Thoma Church parish in New Zealand. And there are possibly other communities – I am trying to find out.
The St Thomas Mar Thoma Church meets in St Thomas Anglican Church, New Lynn. [I can find out little more about that Anglican Church (they do not appear to have a website) than that the "Clergy In Charge is The Reverend Thomas Thomas" – you could not make this up!]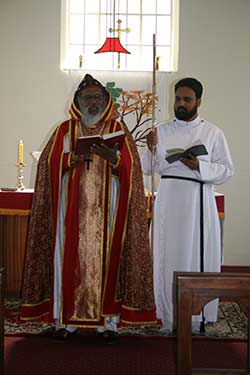 The Mar Thoma Syrian Church Of Malabar is in full communion with the Anglican Church. This is a church that traces its life back to St Thomas the Apostle. There are a number of denominations that are called Saint Thomas Christians deriving from Kerala, India. Mar Thoma are also in full communion with the Malabar Independent Syrian Church.
In Auckland, their service every Sunday is at 11 a.m. alternating 1st & 3rd Sundays Malayalam Qurbana ("Holy Offering" or "Holy Sacrifice" ie the Eucharist), 2nd & 4th – English Communion, 5th Sunday – Holy Qurbana in English/Malayalam.
The main Anaphora or Eucharistic Prayer of the East Syrian tradition is the Holy Qurbana of Addai and Mari (particularly significant because it lacks the Last Supper story which many in the West regard as consecratory), while that of the West Syrian tradition, including Mar Thoma, is the Liturgy of Saint James [a liturgy developed some time from the first to the fourth century].
The Eastern Churches may be further grouped into the Great Eastern Church and the Lesser Eastern Churches. The Greek and Russian Orthodox Churches belong to the Greater Eastern Church while the Coptic, Armenian, Syrian and Indian Churches come under the Lesser Eastern Churches group. The latter were (and still are) self governing churches.

The Mar Thoma Church retained its oriental form of worship and practices, and added to it a missionary zeal gained from study of the open Word of God and encouraged by the work of western missionaries.

The Mar Thoma Church therefore, is neither a Protestant Church of the Western type nor an Orthodox Church of the Eastern type. It is oriental in its worship, autonomous in its administration, and missionary in its actions. It is a bridge between the Eastern and Western ecclesiastical traditions.
Not only, then, in this country do we have three Tikanga (cultural streams) with parallel jurisdictions of different bishops in the one church over the same geographic area, but we have at least one other episcopal jurisdiction in full communion with these. For those interested, happy exploring of the links I provide, and of thinking through some more about this…
Top photo – the Auckland congregation
Similar Posts: