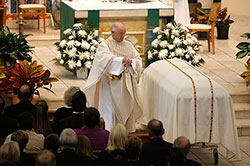 Recently I have had several inquiries about funerals for those who are ordained. I have been asked, are there any protocols for those who are ordained?
In the comments you might add your own thoughts, experiences, diocesan, parish guidelines and protocols, etc.
Obviously there are the usual practices for a Christian funeral. What colour do you use? [I am not in favour of the presider basing the colour on the "sanctity" of the deceased – black (non-church goer); purple (irregular church-goer); white (regular church-goer)]. Easter/paschal candle lit [I am (un)surprised to discover Anglican Churches that do not have/use an Easter/paschal candle]. A funeral Eucharist is, of course, common for a Christian – is this natural for the ordained?
Diocesan guidelines and protocols will, of course, not be so prescriptive as to bypass the wishes of the deceased, close family and friends. If you are ordained, have you discussed this with those close to you? And written up requests (see below)?
In what is the deceased vested? Alb; stole; dalmatic (deacon) chasuble (priest, bishop)…? If this is followed, IMO the vestments are ordinarily Easter vestments, white.
Normally lay people face East at the funeral. The ordained traditionally face West. That continues the direction that a person held in the liturgical assembly. There is also the allegorising that laity are judged by God; Christian leaders are judged by those they led.
Traditionally lay people are buried facing East. The ordained are traditionally buried facing West. An allegorising being that the leaders, as they rise, see who in their flock are rising. In deciding which way to bury, this tradition may be taken into account.
Does the diocesan bishop preside?
Does the diocese provide a template for funeral requests that people file with a copy of their will? Do parishes?
…
Similar Posts: