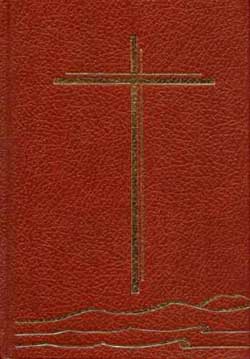 Prayer shapes belief. As we worship – so we live. "Lex orandi, lex credendi, lex vivendi".
We need to be very careful, then, in the regular and central fare that nourishes most of us, most of the time.
At core moments prayer has placed us, by being drawn into Christ's body, to pray with, in, and through Christ, empowered by the Spirit, to God. And that dynamic works both ways, as God then sends us, empowered by the Spirit, to be Christ in the world and to continue Christ's mission.
Prayer addressed to God, through Christ, in the Spirit is the norm as we give thanks with bread and wine in the eucharist, as we give thanks over the water at baptism, as we ordain someone, and so on. It has been the norm for centuries as Christians gather (are collected) around the scriptures to hear what the Spirit is saying to the Church. The central prayer of the Gathering of the Community, the collect, has addressed God, the First Person of the Trinity, through Christ, in the Spirit.
A motion before next month's General Synod Te Hinota Whanui seeks to preserve this, at least as an option within the actual text in each celebration, in any revision of a New Zealand Prayer Book He Karakia Mihinare o Aotearoa:
Moved Ven Canon Andrew Starky Seconded Rev Brian Dawson

That this synod

notes plans for a revision to A New Zealand Prayer Book He Karakia Mihinare o Aotearoa which would align printed collects with the Revised Common Lectionary, reducing the current provision of three collects per celebration (Sundays, Holy Days) to one collect per celebration (Sundays, Holy Days),

(1) has been intended to be a helpful revision which brings our prayer book's printed pages into line with common usage of the Revised Common Lectionary

(2) this means that not all celebrations would be provided with a collect following the traditional norm of addressing God, the First Person of the Trinity, through Christ, in the Spirit inherited from the early Church via Cranmer and so shared with the rest of the Anglican Communion; and

therefore resolves,

that in any revision of A New Zealand Prayer Book He Karakia Mihinare o Aotearoa every celebration be provided, in the text, with at least one collect which follows the taonga/treasure of Trinitarian collects (that is, addressed to God, the First Person of the Trinity, through Christ, in the Spirit); and that, as far as possible, such a collect be provided in Te Reo Maori as well as English.
Once again, this is a highly irenic motion, accepting that some intentionally want to have an alternative available, but seeking that, similarly, there be respect for those of us who want to be able to easily reach for a collect as outlined in the first few paragraphs of this post (and here). And respecting that those who want this option, end up generally praying the same collect (ie. common prayer). It understands that people like me, who want the collect to bear the weight of the dynamic expressed in those early paragraphs of this post, see many of the prayers addressed to Jesus and the Holy Spirit in ANZPB as useful in a different context, but an impoverishment in comparison with the richness that the collect structure and dynamic brings to its role as central to the Gathering of the Community and the Ministry of the Word.
This motion is not merely seeking that all members of the Trinity be named in a prayer (as if, for example, praying to the Holy Spirit is somehow turned into a "collect" by adding reference to the Father and Jesus at the end). The collect (as traditionally understood) is seeking a living out of a particular Trinitarian dynamic in our praying and in our living.
As strongly as possible, I urge members of General Synod Te Hinota Whanui to vote yes to this motion. If you are not a member of GSTHW, I hope you will urge those who are to think seriously about this and allow for the flexibility and ease that this motion calls for.
Yes, this will mean seeking to leave Bill 5 on the table until further work has been done on it. But it is already clear that Bill 5 is rushed. Bill 5's text for Palm Sunday, just to offer one example, talks about "Use collect for Lent 6:3" and "6:1". These are obviously instructions left in the text accidentally from earlier cross-referencing drafts. Bill 5 surprisingly refers to other resources (I cannot recall anything similar in any of our formularies), allowing us to use "A Prayer Book for Australia, or in Revised Common Lectionary Prayers." An amendment is being suggested that would extend this to make it similar to our current ability to use any appropriate resource and such an amendment needs, at the very least, to be part of the further improvement of Bill 5. But having our own option readily available in the collect format on each occasion (as well as this rubric allowing prayers from other resources) is far preferable.
This motion to GSTHW expresses well the intentions of both the Christchurch diocesan synod and the Dunedin diocesan synod, the position of membership in Tikanga Pakeha Liturgical Working Group, and many others in our church.
Our diocese was formally informed that there is international, ecumenical debate about the collect format. I have asked to be pointed to such scholarship by our church – I have not yet received a single example of this debate.
Similar Posts: