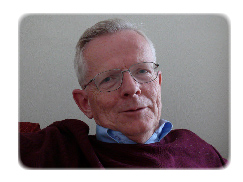 Jim Cotter died last week. I was blessed to have met him. He was a poet who worked at reshaping much of our inherited liturgical tradition. Here are some of Jim Cotter's Books
.
He was delighted that some of his work was incorporated into A New Zealand Prayer Book He Karakia Mihinare o Aotearoa. From there, his are some of the best-loved parts of that Prayer Book which spread internationally and ecumenically with many people not being aware of Jim Cotter being the author. Particularly popular is the paraphrase of the Lord's Prayer in Night Prayer (page 181). Many, however, are not aware that NZ changed Jim's original. He has:
Eternal Spirit,
Life-Giver, Pain-Bearer, Love-Maker,…
Sex and its joys are mentioned optionally in a prayer in the marriage rites (page 803). But God as Love-Maker was obviously a step too far for puritanical Kiwis. In the Prayer Book it was altered to
Eternal Spirit,
Earth-maker, Pain-bearer, Life-giver,…
Personally I love the metaphor of God the Love-Maker, and the intentional ambiguity of the multi-faceted images.
Jim Cotter's paraphrase is inspired by his reading of Louis Evely's We Dare to Say Our Father
(Louis Evely, his life and works, is also worth exploring – but let us stay with Jim Cotter here, his life and works).
Jim Cotter writes of himself:
I have been writing and speaking publicly for forty-five years, and haven't stopped yet! I think I have been exploring, as a pilgrim soul, what it might mean to unfold afresh my spiritual and religious inheritance, and it has been both a personal and a public concern to try and connect that tradition with the experiences of being gay, undergoing two years of serious depression, and, more recently, living with leukaemia. In their time each of these has been a stigma, information that few people would wish to reveal when applying for a job. Hence much of my work has been as a free range writer, speaker, and publisher, sometimes precariously on the edge of organizations, though with much support and friendship from within them.

My hope is that the work will help those who are younger than I am both to renew their faith and to integrate it with their sexuality without getting depressed and without the stress which may well contribute to a cancer becoming symptomatic sooner than need be.
Sadly, it is little surprising that the church which so recently was unable to accept God as Love-Maker is spending so much time, money, and energy and getting nowhere slowly on who may manifest this Love-Maker with whom.
May God the Love-Maker embrace Jim forever and might his vision of the Love-Making God finally be caught by us and by all.
Here is Jim Cotter's original:
Eternal Spirit, Life-Giver, Pain-Bearer, Love-Maker,
Source of all that is and shall be,
Father and Mother of us all, Loving God, in whom is heaven:The Hallowing of your name echo through the universe!
The way of your Justice be followed by the peoples of the world!
Your heavenly will be done by all created beings!
Your Commonwealth of Peace and Freedom sustain our hope and come on earth!
With the bread that we need for today, feed us.
In the hurts we absorb from one another, forgive us.
In times of temptation and test, strengthen us.
From trials too great to endure, spare us.
From the grip of all that is evil, free us.
For you reign in the glory of the power that is love,
now and for ever. Amen.
Today is the Third Day of Easter.
Similar Posts: