Some time this week or next week most will be reflecting back on Holy Week and the Triduum (Maundy Thursday, Good Friday, Easter Vigil), and writing up notes for improvements next year.
Holy Week and Triduum online
A friend of mine wanted to go to an Anglican church for Easter. She looked up the diocesan website and found reference on the front page:
Experience Easter at Church

We invite you to spend some of your Easter in a church near you….

Find a Church near you where you can experience Easter
Check out the Easter at Church website
She clicked on the "Easter at Church website" link. Nothing happens. The link is broken! Whoever updated that site did not check if it worked (at least that diocese gets points for coming up with the idea, and for showing that it can be done – if you check it once "done"). My friend did not get to an Easter service.
This made me check the 7 NZ Anglican diocesan websites. In fact the website my friend visited is the only diocesan website that mentions Easter on the front page! One site just has the words, "It works! This is the default web page for this server. The web server software is running but no content has been added, yet." [It's great if you are updating your website – but do this offline. Just switch over to your new website when it is ready – keep the old one running until then!] One site was dominated by a photo as its header with older, dour, unsmiling men in 17th century black preaching scarves (those considering coming to church might hover over this picture and discover this is a photo of "a collation service for the new Vicar-General…", words the majority of Anglicans would probably not be able to explain…) One diocesan website describes itself as "evangelical" (a word I would have taken to mean keen to share the Easter Good News…) Again, no mention of Easter. There is an advertisement if you want to be a vicar in that diocese. And when you go to parishes on that site, they have no website, and just give regular Sunday services – not Holy Week special services [If you are not using WordPress and updating your site regularly, and if you do not run a community facebook page, you are doing it wrong!]
Roman Catholic diocesan websites have Holy Week and Triduum services clearly indicated.
Holy Week and Triduum in newspapers
Our diocese of over 70 parishes had 6 of those parishes with an advertisement in the newspaper. As befitting the Anglican Church of Or, amongst those 6 you could choose from: "A commemoration, of the Last Supper with footwashing", "Eucharist of Lord's Supper", "Maundy Thursday service", "Devotional Service", "Tenebrae Service of extinguishing the light", and nothing… If anyone wants to do a doctoral thesis that Baumstark was wrong in his "law" describing the organic evolution of the liturgy over time: that primitive and ancient customs are maintained with greater tenacity on the more sacred and solemn days of the liturgical year, then the Anglican Church of Or is your place of research. Here, as demonstrated, nothing is assured from one year to the next, and certainly there is no common prayer from one community to the next… [Please credit me in your thesis]. Congratulations to the parish that advertised on several different days in the newspaper, in a local newspaper, and has a clear, friendly, up-to-date website.
The prize is won by the Anglican Church that advertised an Easter Service in a regional newspaper. In that newspaper the service is described:
While because the event is being held at Easter it therefore has Christian overtones, the actual ceremonies won't be particularly religious.
A couple of memes to disprove…
Reading the Passion on Palm Sunday is giving in to "the world"
Regularly those who want to remove the reading of the Passion Gospel on Palm Sunday claim that this is a new innovation made because contemporary church-goers are lazy and don't come to church on weekdays (including Good Friday) and so they contend that reading the Passion on Palm Sunday is giving in to contemporary, lazy worldliness:
it is almost certainly the concern that many worshippers will skip mid-Holy-Week services that has dictated that the whole Passion Gospel be read on Palm Sunday.

It's a concession to some people's choice not to walk Holy Week enabling them not to "miss out" before Easter.
This is clearly, demonstrably false. Chinese whispers. Prior to Vatican II the historic Western lectionary on Palm Sunday read the Palm story (Matt 21:1-9) and then, a bit later in the service, Matthew's Passion story (26:1-75; 27:1-66). The reform of the lectionary at Vatican II only changed the reading of the Passion story on Palm Sunday by rotating through Mark's and Luke's in different years of the three year cycle. Other denominations, taking on the RC post-Vatican II lectionary as the basis for their own renewal, incorporated this tradition into the Palm Sunday rites.
The Richard Dawkins Foundation for Misinformation and Confusion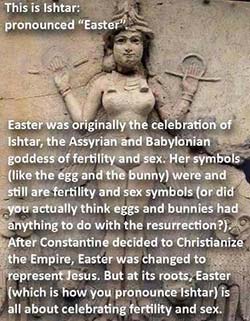 Once again the image on the left is doing the rounds on facebook from The Richard Dawkins Foundation for Misinformation and Confusion.
The claim is that the Dawkins Foundation has retracted this collection of error – well it hasn't. Since when has Dawkins' straw-man approach to religion got in the way of promulgating nonsense?
The error has 73,761 likes, and 192,079 shares. Even snopes, though, disagrees!
Here's my previous post on this.
So here is the corrected image:
You can share the image on facebook here.
The HTML for adding the above badge to your blog or website is:
In Conclusion
I was privileged this Triduum to be with a community that celebrated Maundy Thursday/Good Friday/Easter Vigil as one service with breaks – without dismissal on Thursday, and without greeting or dismissal on Friday, nor greeting at the Vigil. A simple explanation was all that was needed, such as on the Good Friday sheet:
There is no dismissal as the Great Vigil of Easter on Saturday Evening at [time] completes this Liturgy…
Add your own reflections on Holy Week, Triduum, Easter Day in the comments…
Today is the Fourth Day of Easter.
Similar Posts: