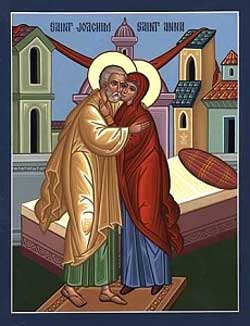 Tomorrow, in the Anglican Church of Aotearoa, New Zealand and Polynesia, is the Feast of "Anne, Mother of the Blessed Virgin Mary". The Calendar is a binding formulary of our church. We promise and sign that we believe and will teach what our formularies present. If I were to cast doubts on Mary's mother being Anne, or on Mary's perpetual virginity, I could be subjected to disciplinary action under a "Title D" challenge on my lack of orthodoxy and lose my license as a priest… [Many in our church look down on The Episcopal Church as watering down the fullness of the faith and sowing doubt – the TEC Calendar only has the celebration titled "The Parents of the Blessed Virgin Mary"! They may be less certain of who Mary's parents are, but at least they still proclaim the perpetual virginity of Mary…]
How we praise thee, Holy Anne. God himself hath called thee Gran.
The icon shows how Mary was conceived. Maybe it also explains why Joachim is left off our church's requirement, to believe and teach, in terms of being the other parent…
"The Righteous Ancestors of God, Joachim and Anna" are mentioned in the Orthodox Church in the Dismissal Prayer:
Priest: Glory to You, O God, our hope, glory to You.
May Christ our true God, as a good, loving, and merciful God, have mercy on us and save us, through the intercessions of His most pure and holy Mother; the power of the precious and life-giving cross; the protection of the honorable, bodiless powers of heaven, the supplications of the honorable, glorious prophet and forerunner John the Baptist; the holy, glorious, and praiseworthy apostles; the holy, glorious, and triumphant martyrs; the holy and righteous ancestors Joachim and Anna; our holy and God-bearing Fathers; Saint (Saint of the Day) whose memory we commemorate today, and all the saints.

Through the prayers of our holy Fathers, Lord Jesus Christ our God, have mercy on us and save us.

People: Amen.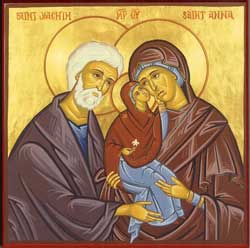 Here is the Sticherion of "O Lord I have cried":
She who before was a barren land giveth birth to fertile ground, and having given forth a holy fruit from her fruitless womb, she nurtureth her with milk. O awesome wonder, the nourisher of our Life, who received the Bread from heaven in her womb is nourished with milk at her mother's bosom.

Come, let us now join chorus with hymnody, O ye who love the feasts of the Church, and with faith let us hold festival, honoring the memory of Joachim and Anna, the honored couple; for they gave birth to the Mother of God for us, the pure Virgin. Wherefore, they have passed from the transitory things over to that which is incorrupt, to the mansions of ever-lasting life, praying that we be saved.

Today all creation is adorned with gladness, O most hymned Theotokos, offering up, with oneness of mind, the annual commemoration of thy parents, celebrating together the wondrous Joachim and Anna; for they have become mediators of joy, giving birth to thee against all hope, the nourisher of our Life, who hast caused the Light to shine forth.

Today Anna rejoiceth, leaping up in spirit, and she is filled with joyful gladness, having obtained her desire, the fertility which she had long cherished; for she put forth the fruit of the promise and blessing, the most immaculate Mary who gave birth to our God, to shine like the sun upon those who sit in darkness.

O blessed couple, ye have surpassed all parents, in that ye gave rise to her who transcendeth all creation. Truly blessed art thou, O Joachim, having become the father of such a maiden! And blessed is thy womb, O Anna, for thou hast put forth the Mother of our Life! Blessed is the bosom wherewith thou didst nourish with milk her who nurtured Him Who sustaineth all creation! Him do ye entreat, we beseech you, O most blessed one, that our souls find great mercy!
And the Troparion of Ss Joachim & Anna (Tone 1):
Joachim and Anna, who were righteous in the law of grace, have for us given birth unto a God-given babe. Wherefore, the divine Church keepeth splendid festival today, celebrating their honored memory with gladness, glorifying God Who hath lifted up the horn of salvation for us in the house of David.
And from the Prologue of Ohrid
St. Joachim was of the lineage of Judah and a descendant of King David. Anna was the daughter of Matthan the priest, from the lineage of Levi, as was Aaron the high priest. Matthan had three daughters: Mary, Sophia and Anna. Mary married, lived in Bethlehem and gave birth to Salome; Sophia married, also lived in Bethlehem, and gave birth to Elizabeth, the mother of St. John the Forerunner; Anna married Joachim in Nazareth, and in old age gave birth to Mary, the Most-holy Theotokos. Joachim and Anna had lived together in marriage for fifty years, and yet had remained barren. They lived devoutly and quietly, and of all their income they spent one third on themselves, distributed one third to the poor and gave the other third to the Temple, and they were well provided for. Once when in their old age they came to Jerusalem to offer a sacrifice to God, the high priest Issachar reprimanded Joachim, saying: "You are not worthy that a gift be accepted from your hands, for you are childless." Others, who had children, pushed Joachim behind them as one unworthy. This greatly grieved these two aged souls and they returned home in great sorrow. Then the two of them fell down before God in prayer, that He work a miracle with them as He once had with Abraham and Sarah, and give them a child as a comfort in their old age. Then God sent His angel, who announced to them the birth of "a daughter most-blessed, by whom all nations on earth will be blessed and through whom the salvation of the world will come." Anna straightway conceived, and in nine months gave birth to the Holy Virgin Mary. St. Joachim lived for eighty years and Anna lived for seventy-nine, at which time they reposed in the Lord.
</whimsy>
Similar Posts: