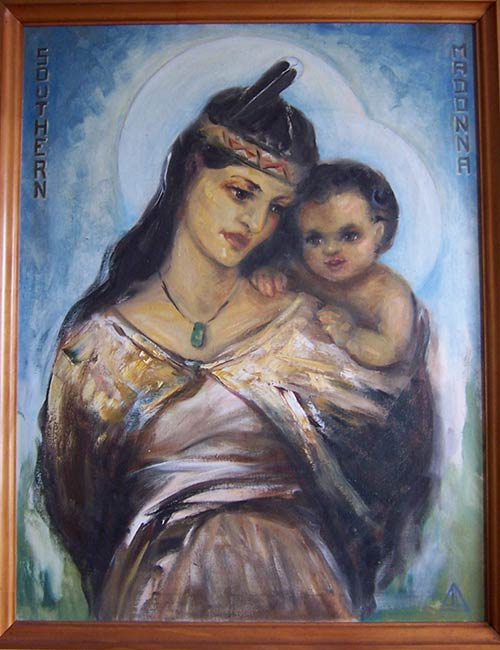 On Saturday, August 15, churches celebrate Mary, the mother of Jesus. The day has many titles: The Assumption, the Dormition, the Feast of the Blessed Virgin Mary… In some places the feast is regarded as so special that it is moved to Sunday (or, one might argue, it is not regarded as special enough, and there's a fear that not enough will turn up to celebrate the feast on a Saturday…)
There are some resources here: The Blessed Virgin Mary, Mary mother of Jesus, and Mary Consoles Eve.
I am also conscious, as one of the founding Associates of NZ's only Cistercian Monastery, Kopua, that on Saturday Br John Pettit will be ordained priest and installed as the superior of the community. Please join me in prayer for that and for the community, its life, mission, ministry, and all associated.
The image, above, is that of The Southern Madonna, by Julia Lynch (Sister Mary Lawrence of the Trinity RSM). It hangs in the church at Southern Star Abbey, Kopua.
A regular here recently sent me a reflection by Protestants in a Coptic Orthodox context as they reflected on the place of Mary as the community prepared for this feast. [I was taken aback that they thought these Orthodox would re-baptise them. Unless they are clear that they have not been validly baptised, re-baptism, surely would be regarded as sacrilege – and Orthodox would share a similar understanding?]
What resources, thoughts, reflections can you add to enrich the lives of those who gather around this site? Please add them in the comments.
If you appreciated this post, consider liking the liturgy facebook page, and/or signing up for a not-very-often email, …
Similar Posts: