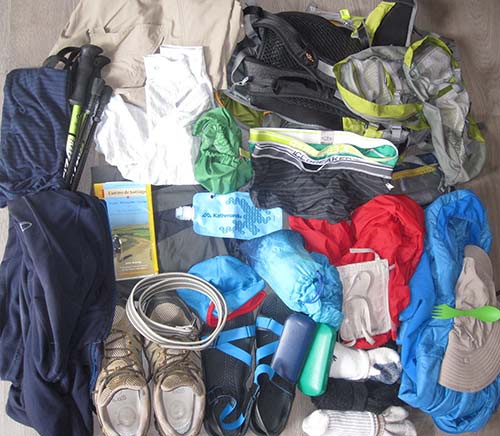 Walking the Camino to Santiago is a lived parable of the pilgrimage of life. Others may have sent luggage ahead – my own personal decision was to carry my gear.
What we carry can also, of course, translate metaphorically. There is all our emotional, intellectual, even spiritual baggage. And the invitation, and challenge, to travel light through life with these. The burdens we carry.
Then there is the parable of how much stuff we acquire. Western culture is particularly focused on getting more stuff.
The parable continues: if we have too little – the pilgrimage is impeded (we met people who were not carrying enough warm clothing when we got into snow and mountain cold; we met people who were not carrying a hat when it got burning hot…) If we carry too much – the pilgrimage is impeded (I am not making this up: I met a young woman who was not only overburdened with the makeup she was carrying, but she had a portable iron and travelling ironing board in her pack!)
You might reflect on this parable in the comments below…
*****
Some people, possibly planning to walk the Camino, may be interested in what I actually took (see photo above).
Aarn Liquid Agility pack – this meant I was carrying about a third on the front and two-thirds of the weight on my back.
trousers that could unzip to be shorts; & belt
extra pair of shorts (I possibly could have survived without these)
three pairs of quick-drying, high quality underpants
four pairs of top quality socks (I generally changed them every two hours)
hiking shoes
merino Teeshirt
long-sleeved shirt
pure merino wool hoodie
light puffer jacket
light raincoat (this was actually not up to the rain we encountered – I didn't take waterproof over-trousers; they might be needed, but I was lucky to have only one day of rain)
sunhat with neck flaps
beanie (not used much)
silk sleeping bag liner (I was told we would find blankets everywhere – about half a dozen times this proved to be false, but I survived covering myself with spare clothes, and am happy with my decision)
hiking poles
very lightweight sandals
foot cream
toiletries; suncream; simple first aid; small travel towel
water bottle
handkerchiefs
spork
tiny, solar-powered torch
guide book
small camera
iPad mini (free wifi is everywhere; I used this as a journal, for the Daily Office, the Bible, words of hymns and songs, and to backup photos from the camera's memory card; I had books on this but found I read very little); chargers; power plug adaptor
tiny padlock (didn't use it)
money neck wallet
You might want to take a phone (in which case you need to go roaming, or get a local sim card – it could replace camera and iPad). You might want to take a thin notebook if you prefer that for journaling.
You pay everywhere with cash. ATM machines are readily available. I carried cash to cover about three days.
The total weight of everything (in the photo) is about 8.5 kg (18 lbs).
Normally, I would use the hiking poles and, with what I wore, the pack would be about 5.5 kg (12 lbs).
On top of that, I would carry about a litre of water ( 1kg = 2 lbs).
I had planned and bought and weighed everything VERY, very carefully, so that I had the best, lightest quality gear that I could put on in layers. I had to deal with sun, heat, rain, snow, cold, and wind. Everything had to be quick drying – I washed socks and underwear every day. If it didn't dry overnight, and mostly it did, I would hang things on the pack as I walked.
If you really need something, you can buy it on the way.
This is another post in the series on my walking the Camino.
If you appreciated this post, consider signing up for a not-very-often email, and/or like the liturgy facebook page…
Similar Posts: