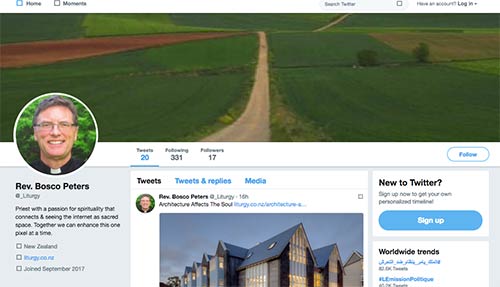 Many of you, reading here, will have had your facebook profile cloned. Some of you have had your social media profile hacked.
I've had some disconcerting and upsetting experiences online, but recently I had my twitter profile cloned – a new experience! Thanks for the vigilance of the online Liturgy community. And thanks to Twitter for dealing with this and suspending the account within a couple of days.
Lots of people have had the experience of having their facebook profile cloned. One of the best ways of preventing that is by hiding your list of friends.
By default, everyone can see the Friends section of your profile. To adjust who can see your Facebook Friends section:
Go to your profile
Click Friends below your cover photo
Click and select Edit Privacy from the dropdown menu
Select an audience to choose who you share your friend list with on your profile – my suggestion is to set this as privately as possible, that way another person cannot harvest your friend list and use them to set up their own cloned profile.
All this does not really apply to Twitter – which essentially is (public) microblogging [Yes – you can make your Twitter posts private – just like you can set a blog to be viewed only by those you allow to view it].
So this imitator completely cloned my Twitter profile. They didn't simply retweet from my actual account, they copied tweets – that, hence, included downloading and re-uploading images. There was not a drop of original content.
I was blocked by my impersonator, so I couldn't see the list of who they were following [you can, of course, still view a blocked Twitter profile by using an incognito/private page on your browser – remember it's public microblogging]. As soon as a person followed my impersonator back, they received a DM (direct message) – something like:
Greetings beloved in Christ! How are you doing?
If the person responded back to this DM, they got another reply quoting a lot of the Scriptures and calling them "Beloved" a lot and asking if they were ready to take the leap into true faith in Christ.
One of my favourite responses from people who contacted me was that it was the mostly talking in Biblical quotes that gave the show away for them: "that's how I knew they probably weren't a real priest!" ROTFWL!
If the person questioned my clone why there was a second Twitter account, with far fewer followers (than my actual Twitter account), they were told, "This is my personal account that I use for counselling those who want to go deeper in Christ."
People, thankfully, soon realised this all just didn't sound like me and got in touch with me. As soon as they let on to the imitator that they knew this wasn't authentic, they were blocked.
To Twitter, I had to prove that I am who I say I am. Others reporting the impersonator to Twitter, I'm sure you helped remove this profile. One person sent me a screenshot (I expect from their phone) – it had a message from (the real) me followed by one from the impersonator. Boy would I have been taken in that they were from the same source! So well done, people!
I have no idea what this person was angling to get out of this.
Tell us your story of being impersonated or hacked on social media.
If you appreciated this post, do remember to like the liturgy facebook page, use the RSS feed, and sign up for a not-very-often email, …Oh – and follow me on Twitter (the real me… maybe I should apply for Twitter's blue tick that I am who I say I am…)
Similar Posts: