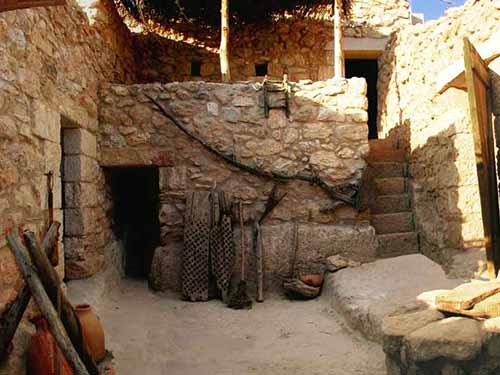 And she gave birth to her firstborn son and wrapped him in bands of cloth, and laid him in a manger, because there was no place for them in the inn. Luke 2:7
Actually, there's no mention of an inn. The word usually translated here as "inn" is κατάλυμα (kataluma). It is the same word used in Luke 22:11 where it is translated as "guest room".
Then came the day of Unleavened Bread, on which the Passover lamb had to be sacrificed. So Jesus sent Peter and John, saying, 'Go and prepare the Passover meal for us that we may eat it.' They asked him, 'Where do you want us to make preparations for it?' 'Listen,' he said to them, 'when you have entered the city, a man carrying a jar of water will meet you; follow him into the house he enters and say to the owner of the house, "The teacher asks you, 'Where is the guest room (κατάλυμα), where I may eat the Passover with my disciples?' " He will show you a large room upstairs, already furnished. Make preparations for us there.' (Luke 22:7-12).
Luke has drawn his man-carrying-a-water-jar (a pretty obvious cultural oddity, so a good sign) from Mark. Mark 14:14 is actually the only other place in the New Testament where κατάλυμα occurs.
Luke, clearly, is the only one to mention the κατάλυμα early in his gospel – there is an element of bookending, then, to κατάλυμα in his gospel.
Far from presenting an image of Joseph and Mary forgetting to book ahead, Luke, when read in the Greek, presents a picture of a house full of people, with animals and people (as normal) in the one "open plan" structure.
In the afterglow of our celebration of the Incarnation, and as we head into the systematic reading of Luke's Gospel, it is worth noting Luke's connecting of Incarnation and Eucharist in his use of κατάλυμα.
If you appreciated this post, consider liking the liturgy facebook page, using the RSS feed, and/or signing up for a not-very-often email, …
Instagram's @liturgy is the new venture – if you are on Instagram, please follow @liturgy.
image source: a typical First-Century Palestine home – some suggest this is the one in which Jesus grew up.
Similar Posts: