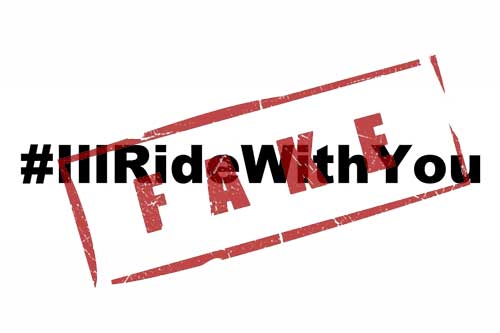 Hundreds of thousands of people joined the viral #illridewithyou expressing solidarity with peaceful people different (looking) from themselves. It even became a song of support at Martin Place, Sydney.
Of course there were the naysayers, using the hashtag to promote prejudice.
And then began the debates about whether the story that set the hashtag in motion actually happened. That debate seemed to focus not on the actual first tweet by @sirtessa that started the hashtag #illridewithyou. She tweeted: "If you reg take the bus b/w Coogee/Martin PL, wear religious attire, &don't feel safe alone: I'll ride withyou. @me for schedule."
The debate centred on the story preceding that – the facebook post by Rachael Jacobs to her friends. Riding on a train, she said she noticed a Muslim woman quietly take off her head covering. She posted: "I ran after her at the train station. I said 'put it back on. I'll walk with u."
The comment I received, "The news tonight is that it's a fake", was a very common reaction. I saw debates whether the hug had lasted a full minute, whether any words were exchanged at all…
Rachel Jacobs has now explained:
Confession time. In my Facebook status, I editorialised. She wasn't sitting next to me. She was a bit away, towards the other end of the carriage. Like most people she had been looking at her phone, then slowly started to unpin her scarf.

Tears sprang to my eyes and I was struck by feelings of anger, sadness and bitterness. It was in this mindset that I punched the first status update into my phone, hoping my friends would take a moment to think about the victims of the siege who were not in the cafe….

By sheer fluke, we got off at the same station, and some part of me decided saying something would be a good thing. Rather than quiz her about her choice of clothing, I thought if I simply offered to walk her to her destination, it might help.

It's hard to describe the moment when humans, and complete strangers, have a conversation with no words. I wanted to tell her I was sorry for so many things – for overstepping the mark, for making assumptions about a complete stranger and for belonging to a culture where racism was part of her everyday experience.

But none of those words came out, and our near silent encounter was over in a moment.

My second status was written as a heartbreaking postscript to my first. While the woman appeared to appreciate my gesture, we had both left defeated and deflated. What good is one small action against an avalanche of ignorance?

Hours later, social media showed me good people can create their own avalanche of kindness…. [Read the full story here]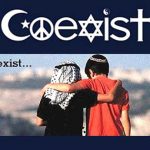 I also had interesting reaction to the Coexist image I used for my blog post: "the photo is a completely a set-up. The Arab boy is wearing headgear appropriate to a middle aged man."
In my blog post I made the connection with Christmas and the incarnation – that this is God's "I'll ride with you". Some people don't accept everything in the Christmas stories as 100% historical – shepherds, wise men, stopping-and-starting star, slaughter of the innocents, … Let alone the interpretations (is κατάλυμα in Luke 2:7 an upper room or an inn? Were the wise men giving gifts, or giving up elements of pagan priestcraft?) Many walk away from such discussions, abandoning the message because of the medium, "it's a fake!" Certainly for the crib scenes in homes and churches one could rightly scorn them as "it's a fake!" Not to mention the stained glass crucifixions: "it's a fake!"
For me #illridewithyou is true. It is only false, "a fake", if there is nothing more than thousands of people's words – and no one ever, in real life, showed any real solidarity with a peaceful person wearing a headscarf.
For me the Christmas story is true (whether the details actually happened as recorded, or whether the historical event was nothing at all like the cribs, the stained glass windows, Christmas cards, and my imagination). It is only false if God was not present in Jesus, and if God actually shows no solidarity with our human condition.
Literal historical 100% photographic accuracy is only one type of truth.
Christmas, the incarnation is God's "I'll ride with you", and anyone who puts #illridewithyou into practice shares in this heart, the truth of Reality (1 John 4:16).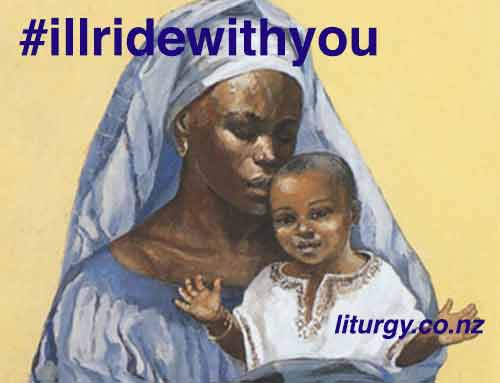 Similar Posts: