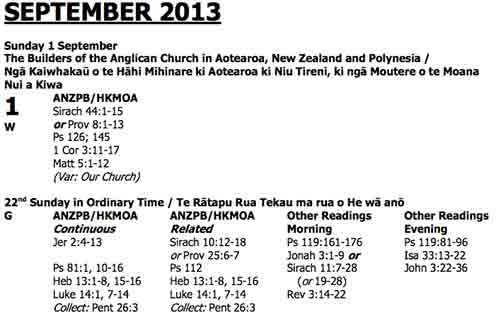 September 1, in the Anglican Church of Aotearoa, New Zealand and Polynesia, is the Festival of The Builders of the Anglican Church in Aotearoa, New Zealand and Polynesia. It is usually represented in bold type (cf. old style "Red letter day") in A New Zealand Prayer Book He Karakia Mihinare o Aotearoa [NZPB] (page 9). And in the Notes on Precedence it is mentioned by name with the rule that if this Festival falls
on a Sunday [it] may be kept on that day or transferred to the Monday (or, at the discretion of the minister, to the next suitable weekday). But a festival should not be celebrated on Sundays in Advent, Lent or Eastertide. Festivals coinciding with a Principal Feast or Principal Holy Day are transferred to the first available day.
Page 662-663 of ANZPB provides the proper (readings, collect, etc.) for this particular Festival. This specific Festival, its proper, and the Notes on Precedence have all been through the "twice round procedure" – voted on at General Synod Te Hinota Whanui [GSTHW], then by all the dioceses and hui amorangi, and then again by a new meeting of GSTHW, after which it was left a year for anyone to object. That is the process for producing formularies – teachings and practices binding on our church.
The 2013 lectionary booklet prints all this information correctly (above).
So once every seven years the Festival of The Builders of the Anglican Church in Aotearoa, New Zealand and Polynesia falls on a Sunday, and a community may decide to replace the agreed RCL readings (proper) with the agreed readings (proper) of this Festival. Or it may decide just to continue with the RCL.
So far… so much as we would and should expect.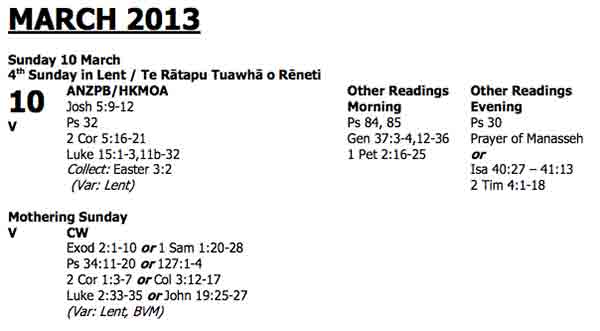 Mothering Sunday is mentioned in NZPB on page 13. It has never been bold type. The rule for it on page 13 has
Mothering Sunday may be observed on the fourth Sunday in Lent, but the proper for Mothering Sunday may not take precedence over that set for the Sunday unless there is more than one celebration of the Eucharist.
The proper for Mothering Sunday is again found in NZPB (page 690). Again, all these are binding formularies on our church.
But…
The readings we as a church have agreed to, for Mothering Sunday (page 690) are:
Isaiah 49:13-16
Psalms 84 or 122
Ephesians 3:14-21
Luke 2:40-52
None of this corresponds with what the lectionary booklet 2013 provides (see above)! Nor is there even a suggestion in the lectionary booklet that this proper cannot be used if there is only one Eucharist celebrated on that Sunday!
But wait – there's more!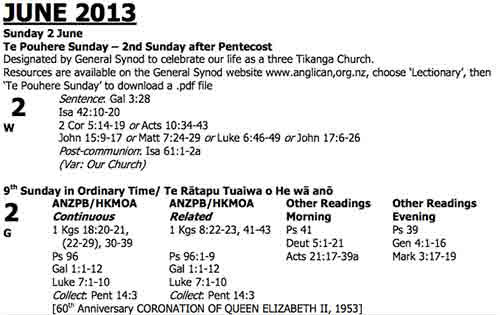 On page 13 of NZPB there are "Other Special Days" which can be "designated by resolution of General Synod from time to time". GSTHW has not provided these special days with propers following the twice round process in which we can have wide agreement on what binds us.
Nevertheless, just as with Mothering Sunday, the lectionary booklet (see above) provides readings for Te Pouhere Sunday which give the impression that these have been agreed in the same manner as the Revised Common Lectionary readings and so can substitute for them.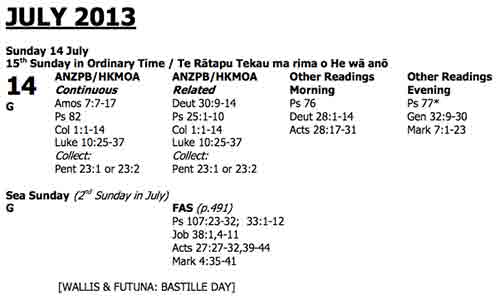 [Update 7 September 2013: the Christchurch diocesan synod has just resoundingly agreed with me and not given assent to Statute 699]
And so we return to the recently-discussed Sea Sunday which GSTHW has now sent around the dioceses and hui amorangi for a vote. Like Te Pouhere Sunday, GSTHW is not providing a proper. There is nothing in the legislation that GSTHW is sending around that indicates what takes precedence. This is all fine when people add Sea Sunday into their hymns and prayers and don't start having it take over (say, as has been suggested) the Feast of the Baptism of Christ.
The lectionary booklet (above), however, does not treat it merely as being a suggestion for adding prayers, hymns and songs (as, for example, General Synod indicated last Sunday, 25 August, we would celebrate Anglican Communion Sunday – but without any suggestion that it has readings that take over). But the lectionary booklet provides readings for Sea Sunday that have not been through the twice round binding process that the RCL readings have. The readings for Te Pouhere have the same (non)status as those of Sea Sunday. It has been pointed out that the lectionary booklet gives the impression that Te Pouhere's readings even have more weight.
So what… Who cares?
Gnats and camels…
Small symptoms of a big disease
In fact, these are camel-shaped gnats, small (possibly) examples of the lack of care GSTHW is taking in the way it produces rigorous-sounding legislation which it is then requiring the rest of us to give energy to debating and voting about.
These camel-shaped gnats are symptoms of confused and confusing rules. The Christchurch diocese had placed a motion on the agenda of GSTHW 2012 to begin the process of untangling the mess, but rather than discuss that motion and address the confusion, GSTHW continues to generate more for the Anglican Church of Or.
I have another blog post planned that will pick up some of these ideas further.
Similar Posts: