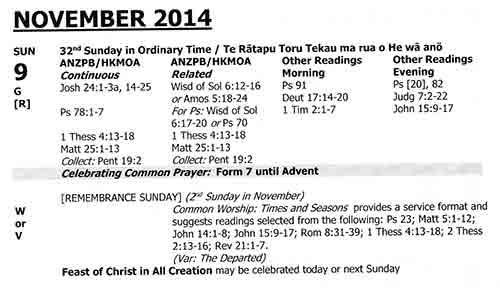 Many of us have, by now, bought our copy of the booklet The Lectionary Te Maramataka 2014.
UPDATE: here is the PDF of The Lectionary Te Maramataka 2014 (1.40 MB)
As the booklet itself makes clear, this lectionary booklet can be used to find the appropriate liturgical colour. As in the example in the image above: you may use Green… or Red… or White… or Violet…
[I will explain further below – clearly you may not use the John etc. readings suggested in the image above instead of Matt 25:1-13 etc. The booklet must just be providing them for interesting information on what is happening in England for those who like to keep in touch with "home". The Feast of Christ in All Creation comes with no readings. I wonder which colour you would use for that feast?]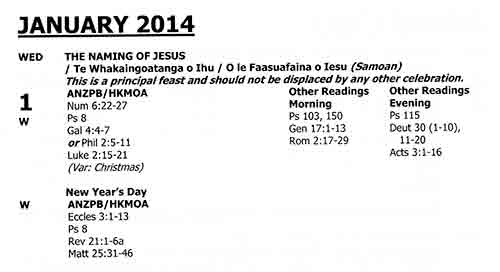 Our lectionary booklet helpfully indicates which feast to celebrate. On January 1, for example, it tells us THE NAMING OF JESUS is a principal feast and should not be displaced by any other celebration. Below which it places another celebration – presumable just for information as the booklet has just said it may not be celebrated?!
Our lectionary booklet also helpfully gives titles to Sundays, numbering them in a way that ordinary people could never understand enough to work out for themselves. Eg. Sunday January 26 is "3rd Sunday of the Epiphany"; the next Sunday, February 2, is "The Presentation of Jesus in the Temple"; and the following Sunday, February 9, is "5th Sunday in Ordinary Time" – the first Sunday in Ordinary time to be mentioned, without any explanation of what happened to the "1st-4th" Sundays in Ordinary Time.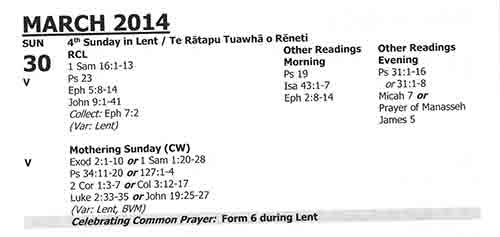 Our lectionary booklet helpfully provides the readings we have agreed to use. These have been agreed to by following the "Twice Round" process (General Synod Te Hinota Whanui; Diocesan Synods & Hui Amorangi; General Synod Te Hinota Whanui again) and are called "formularies". And are binding on us to use.
Above is an example of ignoring this agreement. "CW" indicates mummy Church of England's Common Worship, which has no status in our church, and the readings provided in the lectionary obviously are not to be used to replace our agreed formulary readings of 1 Sam 16:1-13 etc.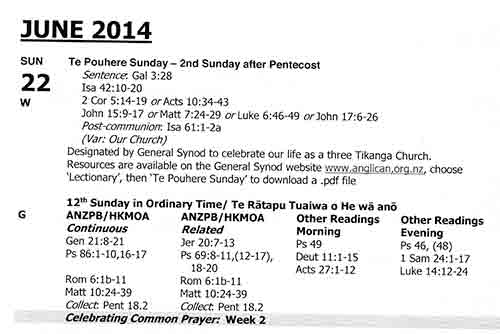 Te Pouhere Sunday may be celebrated in the manner of "Refugee Sunday" or "AAW Sunday" etc. (or even in the manner of the readingless "Feast of Christ in All Creation" mentioned above) but we have not used the "Twice Round" process for the readings provided in this booklet. So you may remember Te Pouhere in the singing, preaching, and praying, but the readings we have agreed to for this day are Matt 10:24-39 etc., not what is provided in this booklet at the top of its page.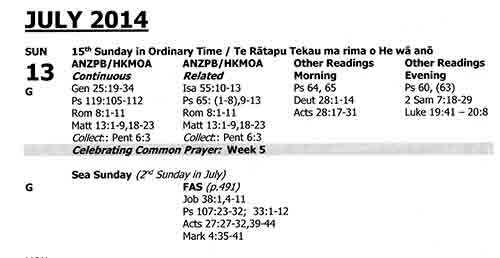 Just like Te Pouhere Sunday, this time you may sing "For those in peril on the Sea", pray, and preach for "Sea Sunday", but you may not use FAS ("For all the Saints") readings, provided in this booklet, to replace our agreed readings of Matt 13:1-9, 18-23 etc.
Now that I've got you started, enjoy the game of finding further examples in this lectionary publication brought to you by the Anglican Church of Or.
More on the Anglican Church of Or's liturgical confusion.
Updated: Rev. Brian Dawson points out that last year's "2nd Sunday after the Epiphany" has, this year (without explanation), become "2nd Sunday OF the Epiphany" [God forbid that we have two years in a row without a change!] The suggestion that this is "more nods to mother England" is true in part. The CofE has "The Second Sunday of Epiphany" (no "the"). It must be great to play around with this stuff in the dark winter of the CofE at that time (with everyone looking for more stuff to make the winter more interesting), but here, down under, in the full summer, when New Zealand shuts down for the month of January, it's the time of year when few even come to church in NZ. Or should I say fewer?
Similar Posts: