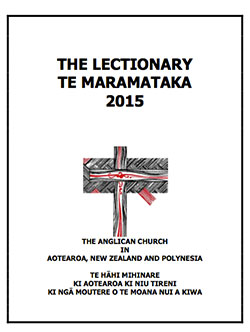 The New Zealand Lectionary booklet for 2015 has been for sale for a while and is available online now. You can download it from here (1.46 MB).
A lot of the lectionary booklet is unchanged in its format from this year.
As previously, a wide variety of options are provided, some authorised by our church, others drawn from other sources. Liturgical colours are not required, but reflect (the booklet says) "common practice in most parishes" (page 6). This means that in NZ there are churches so varied that the lectionary booklet cannot make a decision, and provides all four liturgical colours as options for the same day: you may use Green… or Red… or White… or Violet…
Take care: the digital version on the website numbers the pages differently to the printed version you purchase!
The '3rd Sunday OF the Epiphany' is followed by the '4th Sunday AFTER the Epiphany' is followed by the '5th Sunday in Ordinary Time'. This lectionary booklet has no Sundays in Ordinary Time numbered before the 5th one. [According to our agreed formulary, NZ's Ordinary Time begins in February, so that our first NZ Sunday in Ordinary Time, our lectionary booklet calls the '5th Sunday in Ordinary Time'. I have called for our agreement to be amended so that NZ's Ordinary Time begins after Epiphany].
One new development in this year's lectionary booklet is found early on. There are two pages (digital 20 & 21; purchased printed 18 & 19) for the week "If the Epiphany is celebrated on Tuesday 6 January" followed by two pages (22 &23; 20 & 21) "If the Epiphany is celebrated on Sunday 4 January". NB. The readings for the rest of the week for the Daily Office in both cases are identical. But common prayer is broken in the Daily Eucharist readings. The last time the dates lined up like this, 2009, nothing as complicated as this was presented to the church. Several people have already remarked how people, not noticing that the same week is being printed twice, one following the other, may end up with errors and confusion. By the time of January 25, thankfully, this lectionary booklet abandons this two-track system and provides the usual plethora of options, for the Anglican Church of Or, on the same day.
Just in case you are not kept on your liturgical toes: at the start of the booklet the Sundays are titled "OF Advent". By the end of the booklet they become "IN Advent". Remember, this year, 2014, in addition to debating whether you can bless gay couples as well as the already-clearly-allowed blessing of warships, General Synod Te Hinota Whanui debated a bill that had kept liturgists awake at night, when to use "of" or "in" or "after" in titles for Church-Year Sundays. After passing, on the third reading, this statute has been sent to all dioceses and hui amorangi for further discussion. As the church has not made a final decision on this, it seems the 2015 lectionary booklet has kept all the possible options before us! [As for blessings, currently that's a "yes" for warships, and a "no" for loving gay couples – although you are allowed to recognise both.]
Another flexible year lies ahead for the Anglican Church of Or…
Similar Posts: