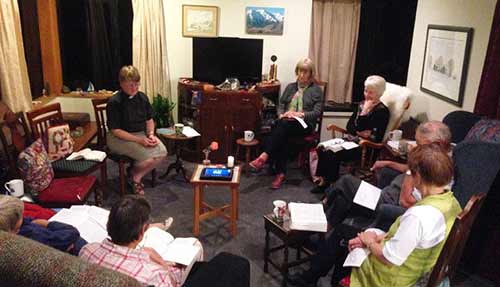 A group meeting for Lent is using Skype to include others in the rural parish of Malvern in New Zealand. The group is working its way through Lynda Paterson and Peter Carrell's book, Being Disciples: Through Lent With Matthew.
They use an iPad set up in the middle of the group of non-virtual participants, but clearly those who do not own an iPad could do the same with another computer.
The use of the iPad to include four others into the discussion takes some practice but everyone seems to have caught on quite quickly.

Those of us gathered in the vicarage have the advantage of taking visual cues from one another and can tell when someone has something to say. For the conversation to work when some of the group are not visible to us I've found that the group is most respectful and accommodating.

There is much more comfort with leaving gaps of silence as we make room for the online participants to come into the conversation. Likewise, we are listening more carefully to one another.

The end result is a method of meeting that is useful on many levels beyond the desire to meet for study, prayer and fellowship. It accommodates those who can't drive after dark, It is green in that we've reduced the number of cars on the road, a sitter is not required for the children, and as one participant last night pointed out – we were spared from catching the oncoming cold virus she had acquired.

Oh, and most surprisingly of all, it is an interesting way of sharing good news as those in the background overhearing one side of the Skype conversation at the various locations have asked, 'So what were you guys talking about in the study group?'

The Technical side of things: We are using Skype accounts to link together all the various participants at scattered locations. One person initiates the Skype call and contacts all the other participants, both remote and the vicarage, so we all end up on the same call.

The screen at the vicarage as well as the screens at the remote locations show the Skype photo for each of the participants. Skype lets each participant know who is talking, plus Skype has a "chat" function that lets the remote participants note questions or comments without interrupting the person talking.

The sound quality has been excellent so the remote participants feel like a vital part of the group discussions.
I have regularly encouraged greater use of social media and contemporary communication technology in the mission and ministry of the church, and it is great to see another example of the fruitfulness of what is now possible. Do you have a story or idea like this one to add?
Similar Posts: