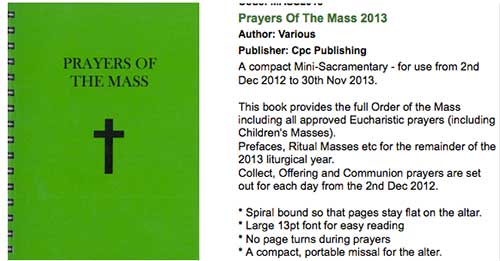 Half a year ago I blogged about the possibility of using an iPad at Mass, and I recommend, if this interests you, to go back to that post, rather than my repeating myself here.
Whatever the merits of placing an iPad flat and unobtrusive on an altar, and even dedicating an iPad to be used for nothing other than this sacred task, the New Zealand Roman Catholic bishops forbid it: "Only the official printed copy of the Roman Missal may be used at Mass and at the Church's other liturgies."
Well…
In the image above you can see quite clearly a spiral-bound annual "compact mini-Sacramentary" sold in New Zealand. And presumably used in New Zealand? Might I respectfully suggest that an iPad is more dignified, and certainly more precious. If the spiral-bound temporary mini-sacramentary is being used on the altar ("alter"[sic]?), may the iPad decision be worth a revisit?
If you appreciated this post, there are different ways to keep in touch with the community around this website: like the facebook page, follow twitter, use the RSS feed,…
Similar Posts: