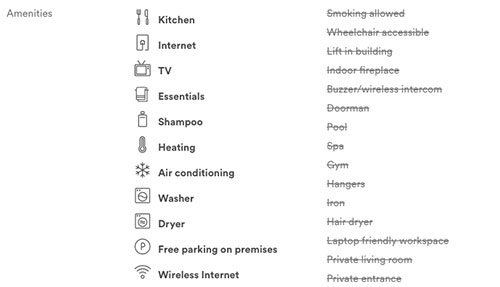 On my recent holiday, it was the first time, really, that I had a look at Airbnb. Two things struck me:
Its ease of use
Its standardisation
If you don't know the site, you can put in dates, places, and options that you are looking for and end up staying anywhere from a room in someone's home to a whole house. You can skim over a map and highlight prices and get simple summaries and images. The accommodation might still have its own website, but here, on Airbnb, there is a standard list of options and they are either shown as available or (see the image above) crossed out. You can book without needing to wait for a reply (clearly indicated by a lightning symbol, explained when you hover over it), or your host will get back to you quickly.
There's honest feedback, and, regularly, there's a response from the hosts to that feedback.
Imagine if church was as keen.
Imagine if a diocese had a website this well organised, where you could find out this easily and accurately when and where services happened and what you might be able to expect at a certain church community. Imagine you could skim over a map and get essential information this easily. Imagine a denomination, nationally, committing itself to such a project: NZ Anglicanism having a website that, wherever you are in the country, you can easily find a service appropriate for you. Imagine doing this ecumenically! Christians working together with a site of the quality of Airbnb so that people could easily find a service near them at a time that they could go! But, heck, Airbnb is just to help people make some extra pocket money, use a spare room, all the way to providing for people's livelihood – have Christians got that level of energy for Christ's Good News?!
If you appreciated this post, consider liking the liturgy facebook page, using the RSS feed, and/or signing up for a not-very-often email, …
Similar Posts: