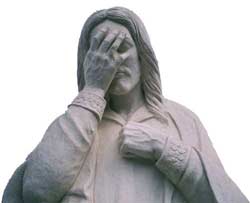 "What is the difference between a liturgist and a terrorist?
You can negotiate with a terrorist."
I so often find the words "God", "prayer", "creation", "gospel"… misused. Abused. Confused. Wonderful concepts are taken captive and even appear to be turned to mean the opposite of what was intended. God our loving creator becomes the almighty tyrant. The gospel gets turned into bad news…
One option is – abandon using those words; find new ones to communicate what we intend. I respect that. I, however, currently tend to continue using the words…
Another word that is misused, abused, confused, is "liturgy"…
People use "liturgy" pejoratively. When I talk about liturgy I can find myself being called a pedant, a pedantic liturgist,… a Pharisee… Many people think that the essence of liturgy, and the fixation of liturgists, is the finicky obsession with tiny, petty, mostly-irrelevant rules.
For them: liturgy = legalism.
This is the second post in a series "liturgy and law". The first is here.
To me, the liturgy=legalism view is like thinking that a great novelist or a scholar of literature is obsessed with whether to put the full stop before or after quotation marks…
In fact, the great novelist wants to produce a gripping, transforming, fascinating novel. The scholar tries to understand what makes good literature…
A good liturgist tries to help people with transforming worship; tries to understand what makes good worship… Or at least should. Or, at least – that's what I try to do…
I have been trying to produce a model that liturgy rules describe best practice rather than merely prescribe…
When you are enjoying, being impacted by, a great novel, a magnificent piece of music, a wonderful film – the focus is not on the grammar, punctuation, spelling, technique,… But if the grammar is bad, so that you have to read a sentence again and again to get the idea, then the rules suddenly do become important. Novelists, film directors, musicians need to have familiarity and agility with their rules so that they achieve their purpose.
A good novel is not primarily about getting grammar rules correct.
A good worship service is not primarily about woodenly following liturgy rules.
We can ask ourselves – how did Jesus' great news become so morphed that it appears so often as bad news?! Similarly, how did liturgy (worship and spirituality) become so morphed in many people's, many Christians', minds that it appears so often as a derogatory term? A synonym for legalism, pedantry, Pharisaism?!
Liturgical rules are the means. Not the end. Not the goal.
Sadly, I think we all know, that for most people who are stuck with the liturgy=legalism lens, that's how they view any liturgical discussion. And liturgical discussions, whatever form they take, reinforce their liturgy=legalism lens. If they ever, momentarily, see liturgy differently – they readily revert to liturgy=legalism as their own default position.
Similar Posts: