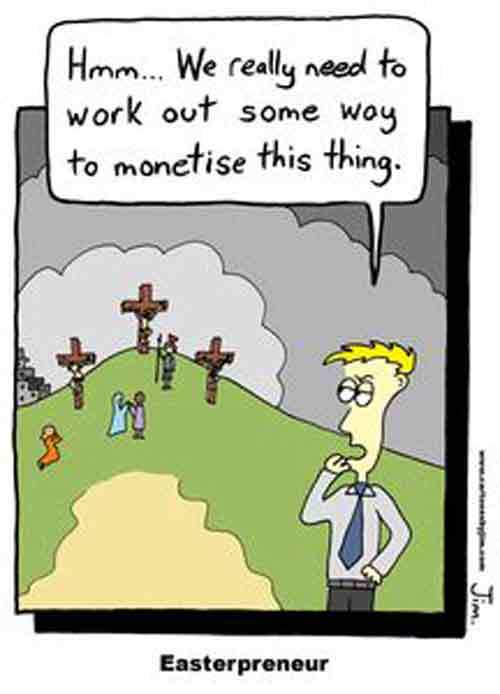 Using the word "Anzac" in any commercial context is illegal and carries a fine of up to $50,000.
In 2015, Australian supermarket chain Woolworths ran an Anzac "Fresh in our Memories" campaign. It was taken down and was seen as the social media fail of that year.
Might not Jesus, and his death, receive some similar respect? To be fair – Good Friday, at least in this land, is generally treated with respect. Monetising Easter weekend is normal. And for Christmas, it is primary.
Do I need to translate this further? Imagine a celebration held deeply sacred by non-Christian religion X. What might be the reaction if non-X adherents used this sacred day specifically as the focus for making money?
Some years back, I have written previously: The cartoon, above, needs no commentary.
The good news is not only abused and perverted by monetising it, but also through contorting it into a weapon of power or for other means of self-gratification.
How astonishingly we manage to transform God's good news into bad news…
ps. If we are going to analyse the Kiwi religious scene, it would include money, rugby, and Anzac.
I hope, if you appreciated this post today, that you share it (facebook and so on). And do remember to like the liturgy facebook page, use the RSS feed, and sign up for a not-very-often email, …
Similar Posts: